Dare to dream
LAU Byblos hosts the second TEDxLAU Salon to discuss creative ideas put forward by people from around the world.
More than 90 students and professionals gathered on the Byblos campus to attend the second TEDxLAU Salon under the theme "Dare to Dream."
LAU's Department of Humanities, in collaboration with the Rotaract Club in Byblos, hosted the event, which screened four online talks selected for their portrayal of creative initiatives from around the world.
"These events are popular because people in Lebanon are starting to realize the power of independently-held TED-like (TEDx) events," says Reine Azzi, organizer of TEDxLAU and instructor of English and moral reasoning at LAU Beirut. "Attendees get to experience an inspirational atmosphere where they learn about creative ideas and realize that they have a lot to contribute," she adds.
First-time TEDx attendee Joanna Khoury, an instructor at Notre Dame University, found the talks and subsequent debates unique in the sense that they push students to voice their opinions and concerns about a variety of topics.
While half of the audience consisted of LAU students, the other half was composed of young professionals and students from Notre Dame University and Saint Joseph University.

The first ever TEDxLAU Salon, organized on the Beirut campus last February, brought together around 70 participants.
TEDx events are organized under the general guidance of the world-renowned Technology Entertainment and Design (TED) conference series.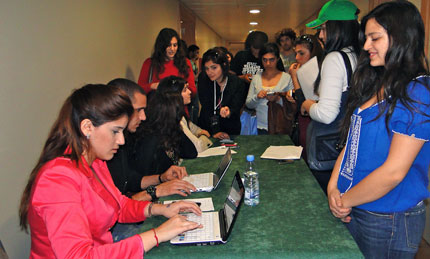 During registration some participants chose to go "paperless" by getting their tickets on their smart phones.
After the screening of the first talk by Antony Atalla on growing new organs, members from TEDxLAU engaged in a discussion about organ "printing" and immortality, and whether this would lead to the "survival of the richest."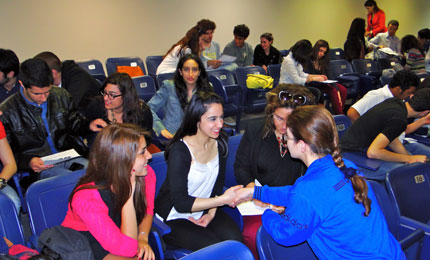 Following the "Civilization Starter Kit" talk by Marcin Jakubowski, attendees formed informal groups to take part in a do-it-yourself activity.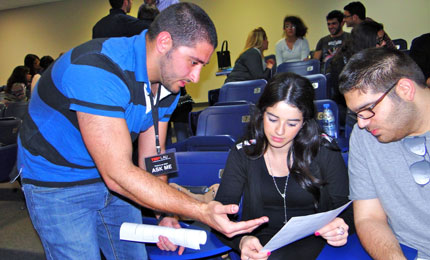 During another group exercise, Joe Nazi, one of the co-hosts and an engineering student at LAU, helped participants with designing a machine.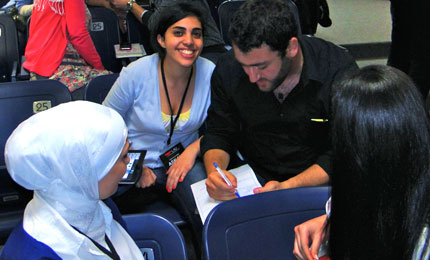 The do-it-yourself theme was also dominant in the third talk by Britta Riley, who presented the garden she grew outside of her New York City apartment window. Windowfarms.org was listed by Entrepreneur Magazine as one of the top 100 businesses to watch.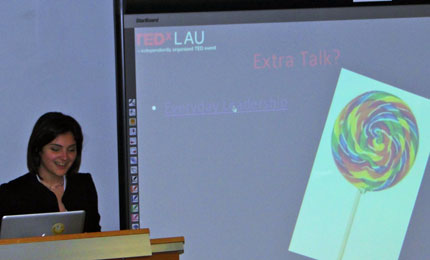 Reine Azzi, TEDxLAU curator and host, during the last talk on everyday leadership. It was preceded by Damon Horowitz' talk about regaining one's sense of curiosity and desire to learn.