Department of Design hosts "Arab Comics Art" symposium
Seven speakers from within the regional comic arts community spoke to an audience of LAU students and faculty about the revival of this art form across Arab countries.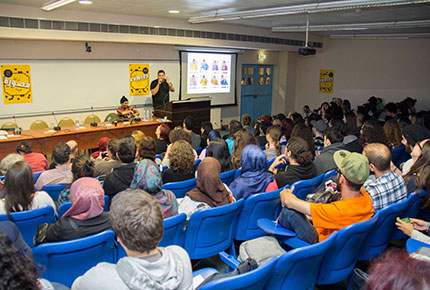 "Comics art is currently experiencing a revival across Arab countries," says Chair of the Design Department Associate Professor Yasmine Taan, adding however that the medium is "a fertile ground yet to be fully explored." On March 27, Taan's department hosted a symposium dedicated to doing just that, welcoming seven speakers from within the comic arts community who spoke about their work to an audience of LAU students and faculty.
According to the speakers, graphic storytelling has historically faced the dual challenge of a lack of research and limited funding. Yet, it remains an appealing medium to artists and graphic designers alike as it allows them to highlight political and social issues in a lighthearted and free-spirited manner. At the same time, it can be a deeply personal endeavor.
"For us, the themes should be personal, with no religious, political or social themes, or any restrictions of self-censorship," said head of Jad Workshop for budding comic artists George Khoury. In addition to heading the workshop, Khoury is a graphic design instructor at LAU and is also head of the animation department at Future TV, a background he calls upon to help him guide the workshop's young artists. "Visual, skillful interpretation is of primary concern to us," he says, adding that "narration should be mainly visual, and if there is no narrative text, who cares? We are visual artists, not novelists."
Khoury's apolitical stance was countered, however, by Zeina Bassil, creator of the magazine La Furie des Glandeurs. She sees her mission as an artist to "point out serious problems and talk about them," and recently dedicated the fourth issue of the magazine to the highly sensitive subject of racism in Lebanon. Her position found strong support from fellow-panelist Mohammed Shennawy, founder of the Egyptian magazine TokTok. "My comics are representations of various issues across Egypt," he said, describing the purpose of his publication as "political commentary" in which both serious and mundane issues are dealt with in a satirical fashion.
For her part, visual artist Lena Merhej also disagreed with Khoury's position regarding the secondary role of narration in comics. In her view, the medium can be seen as alternative "biographies and visual poetry," in which the artist conveys a story through the tension between imagery and text.
In addition to theoretical discussions, the panelists also addressed the question of how to practically support the tradition of comic art in Lebanon. For example, symposium participant Lina Ghaibeh highlighted the Mu'taz and Rada Sawwaf Arab Comics Initiative – an academic body for the study of Arabic comics at the American University of Beirut – urging institutions of learning to make comic arts a priority in the education system in order to preserve the art form and its rich history.
Despite their disagreements, the panelists were joined by the common desire to express themselves openly and without any restrictions through their artistry. Audience members could leave the symposium confident that the evolution and adaptation of the comic arts medium in the Arab world bodes well for continuing honest, modern-day artistic portrayals of life in the region.
The speakers were George Khoury of Jad Workshop (Lebanon), Lena Merhej of Samandal (Lebanon), Lina Ghaibeh from the Comic Arts Initiative (Lebanon), Mohammed El Bellaoui and Mohamed Rahmo of Skefkef (Morocco), Mohammed Shennawy from TokTok (Egypt) and Zeina Bassil of Le Furie des Glandeurs (Lebanon).