Design matters
With one foot in academia and another in the design industry LAU graphic design instructor breaks the spell of strict rationality to empower students.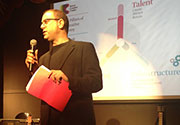 Hani Asfour explains the three pillars of the creative economy to a packed audience at Beirut Creative Cluster's launch party, April 2013. [Photo courtesy of BCC.]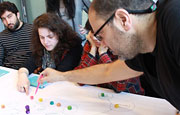 Hani Asfour builds an actor map with participants at the Beirut Service Jam workshop organized by Mirada Madrid, March 2013. [Photo courtesy of Mirada Madrid.]
Click on the photos for larger versions.
Hani Asfour's relationship with LAU began in 1968, when he was enrolled in the university's nursery school as a toddler. Thirty-seven years later, with degrees from Harvard University and MIT, he became an instructor at the university where he now teaches a foundation design studio class to first-year students in graphic design, interior architecture and architecture.
"Conventional wisdom holds that design is the final step of a project—the cherry on top," he told a captivated crowd at a TEDxBeirut event last year. But Asfour swims against the tide with his conviction that design can do much more than make something look "pretty." The TEDx talk was a favorite among the budding designers in the audience, who agree with his philosophy on the increasingly complex interplay between business and design.
If Asfour is able to speak with such assurance on these topics it is because, as the cofounder of Beirut-based Polypod, he has one foot in academia and one foot in industry. The company offers integrated design services in architecture, interior design, branding and web design and development for both local and international clientele.
Asfour and co-founder Rana Samara Jubayli settled on Polypod's Hamra location as it is between the two most prestigious universities in the country, AUB and LAU, and therefore provides easy access to students.
With twenty years of real-world design experience, Asfour transfers his philosophy to the classroom with an oft-cited mantra: "Stop thinking, start seeing." He challenges his students to see how design can affect a range of stakeholders and encourages them to trust their design instincts.
"We tend to have a bias toward evaluating something purely on function—but we can get a sense through meaning in form as well," he explains. Thus, a great deal of what happens in his classroom is unlearning. Though Asfour admits that breaking the spell of strict rationality can be a terrifying experience for some students, he knows it enables them to exercise creative freedom. Indeed, the group effectively operates as a collective of equals, where everyone's opinions are respected and valued.
Encouraged by Salim Tannous, a former filmmaker now at Berytech, Asfour joined the newly created Beirut Creative Cluster (BCC). The organization intends to offer networking events and lobby as a group to get favorable rates on important industry conferences.
"A decision was made to join forces to increase our international impact and exposure," explains Asfour who is now president of BCC.
"It's about time someone tried to harness our city's creative energy," says high school student Kiarmin Sharif, a fan of Asfour's work who intends to apply to LAU's School of Architecture and Design upon his graduation.
"The anything-could-happen excitement of Beirut makes it the perfect place to study design," he adds, sentiments which align neatly with the instructor's anything-is-possible attitude.