Dialogue under occupation
LAU Beirut hosts sixth annual international DUO conference focused on confronting occupation through a range of disciplines.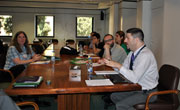 According to founder Dr. Lawrence Berlin (right), DUO began as an idea and evolved into a movement.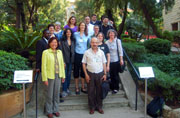 Over the three days, 36 academics participated in 25 sessions in various capacities.
Click on any photo above for larger version.
 Scholars from 10 universities from three continents took part in the "Dialogue Under Occupation VI" conference, hosted May 9-11 by the Department of Humanities at LAU Beirut.
The three-day event showcased a wide range of scholarly research — from disciplines in the humanities as well as the social sciences — on the legal, moral, military, historical and humanitarian dimensions of occupation.
"This event has a special meaning for us," said Dr. Philippe Frossard, dean of the School of Arts and Sciences, during the opening ceremony. "It tackles key concepts — communication in its many shapes and forms, conflict transformation, diversity and tolerance — that are dear to LAU."
Dialogue Under Occupation (DUO) began as an idea and evolved into a sort of movement, according to founder Dr. Lawrence Berlin, chair of the Department of Anthropology at Northeastern Illinois University. "We are part of a growing trend in academia, looking outward rather than inward, engaging in research that aims to be useful and applicable rather than esoteric," said Berlin in his introduction.
"We're working to foster a generation of educated individuals committed to dialogue and social justice, in the hope that we will have made a first step in the future betterment of life for all peoples everywhere," he added.
Since 2006, the annual conference has been held in cities all over the world, from Chicago to the Palestinian Territories, Bogotá to Okinawa.
Dr. Ibrahim El-Hussari, lecturer of English and cultural studies at LAU Beirut, began organizing DUO VI with Berlin after participating in DUO V in Okinawa.
"The central theme of DUO VI was enhancement of dialogue focused on the moral, legal and human repercussions of occupation on those suffering the daily brunt of it," El-Hussari says.
Over the three days, 36 academics participated in 25 sessions in various capacities, from presenting papers and conducting roundtables to serving on panels. More than 60 students and guests also attended the event and took part in discussions.

Berlin's session, "Shifting Sands, Shifting Policy: The U.S.'s Stated Policy toward Israel and Palestine," compared documents and statements from Presidents Harry Truman and Barack Obama and explored the nuances of language and their impact on policy. "We are constantly manipulating language so we can project on other people what we want them to perceive — something politicians are keenly aware of," he told attendees.
Dr. Makram Ouaiss, assistant professor of political science and international affairs and chair of the Department of Social Sciences at LAU Byblos, delivered a keynote speech about different forms of occupation and the evolution, over time, of its definition in international affairs and under international law. His presentation also "discussed ways of resisting occupation — with an emphasis on peaceful resistance," said Ouaiss.

"The arguments found in mainstream academic literature to justify or defend occupation are with few exceptions morally ambiguous and tend to perpetuate the logic of war. Yet we continue to bend morality or trample on human rights to fit states interests," he concluded by lamenting.