Diaspora key to job creation in Lebanon
A panel of experts meets at LAU New York in a discussion and workshop about the economic role of the Lebanese diaspora.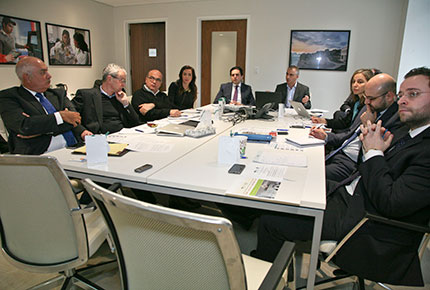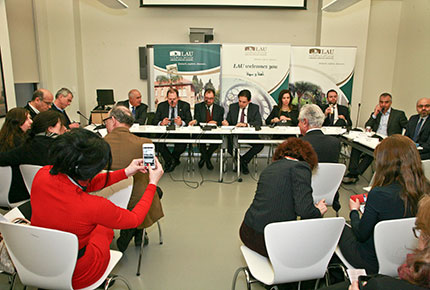 "It is our responsibility to provide opportunity to our youth," exclaimed LAU President Dr. Joseph G. Jabbra to a packed room at the Lebanese American University headquarters in Midtown Manhattan, as he addressed the participants of a gathering titled "The Lebanese Diaspora, Remittances, and Economic Development: Engagement and Policy Reform." The event combined a workshop format with a panel discussion during which nine international experts deliberated on how the diaspora can contribute more effectively to Lebanon's economic development.
Organized in collaboration with the World Bank and moderated by Lebanese Consul Majdi Ramadan, the panel discussion proceeded as a lively, at times slightly heated, discussion among the panelists and 150 or so audience members.

"Diaspora has its positive effects," said Ramadan, "but too much emigration comes at a cost. Some 80 percent of Lebanese graduates apply for visas to work abroad." He further pointed to the challenge of assessing the size of the diaspora — whether it encompasses strictly the 600,000 holders of Lebanese passports who live abroad, or includes the approximately 16 million people worldwide with Lebanese origins. Regardless, Ramadan recognized its political significance, referencing the ongoing debate over the diaspora's right to vote.
The other panelists also gave nuanced assessments of the Lebanese diaspora, covering an array of topics from defining Lebanon's competitive edge within the Middle East North Africa (MENA) region to establishing strategic projects to draw outside investors. They underlined the importance of Lebanese Central Bank initiative Circular 331. Announced in 2013, it sets $400 million aside to invest in, and thus help boost, local incubators, funds and startups.
"This is the most promising development since Lebanon's civil war," said Dr. Edgar Choueiri, director of Engineering Physics at Princeton University. With the intent of bolstering the economy, especially in the technological digital sector, Circular 331 targets Lebanese companies whose main activity takes place inside the country. "It's a unique chance to recreate Lebanon," enthused Roula Moussa, managing partner of Netways.
"For once, the government is doing something right," added Habib Kairouz, managing partner of Rho Capital Partners & Rho Ventures a comment that resonated with laughter across the room.

The tone of most panelists was optimistic, but several audience members questioned their ebullience. During Q&A, they expressed concerns about an almost inexistent rule of law, rising poverty levels, the burden of a million-plus Syrian refugees on the local job market, as well as the place of women in the Lebanese society. Some of the panelists did concede that there are problems. "As an economist, I would think the unemployment problem is what needs to be solved first," said Dr. Rand Ghayad, an associate at The Brattle Group, "and it is in fact, the reason why most people emigrate in the first place."
Still, the session ended on a high note. "It was a lively interaction and a dynamic discussion that gave the audience an opportunity to address various perspectives," said Alexandra Tarazi, a 29-year-old Lebanese-American working at The United Nations Global Compact.
The panel included Dr. Edgar Choueiri, director of Engineering Physics at Princeton University, Dr. Philippe Fargues, director, Migration Policy Centre, European University Institute, Dr. Rand Ghayad, associate, The Brattle Group, Sergio Daniel Jalil, executive director, Latin American Center for Lebanese Studies, Habib Kairouz, managing partner, Rho Capital Partners & Rho Ventures, Roula Moussa, managing partner, Netways, Samuel Rizk, senior programme advisor, United Nations Development Programme, Dr. Nadim Shehadi, director, Fares Center for Eastern Mediterranean Studies at Tufts University, Dr. Paul Tabar, director, Institute for Migration Studies, Lebanese American University.