Discovering an array of career paths in pharmacy
LAU pharmacy students are able to choose different educational and career options based on their particular interests.
The word pharmacy often evokes images of medication stores and white-coat-clad drug dispensers. However, as LAU students in this discipline soon discover, running a community pharmacy is but one of various career paths they may follow.
"At the School of Pharmacy we teach no less than 10 tracks including clinical, industrial, academic, and ambulatory care pharmacy, as well as research and management, among others," said Associate Professor Wissam Kabbara.
For example, fourth-year student Ahmad Ouaini is pursuing the clinical track, specializing in cardiology and infectious diseases. Clinical pharmacists typically work with teams of doctors, nurses and other healthcare professionals to effectively treat patients at hospitals or clinics.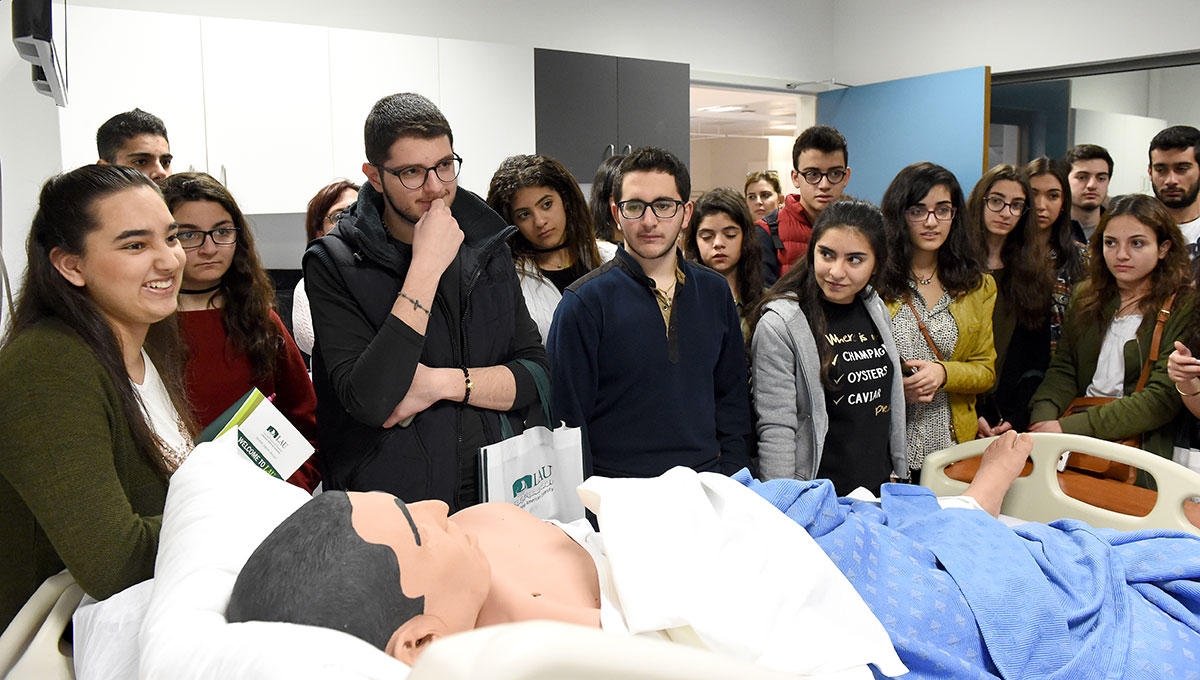 High school students visit the Clinical Simulation Center, a safe environment where all LAU healthcare students can practice on manikins before going out to real-world scenarios.
Like all LAU pharmacy students, Oueini is benefitting from a program that follows American educational standards and imparts much more than technical knowledge.
"We really receive a world-class education that builds us professionally and personally," he said.
"One wouldn't expect it in our field, but in addition to the purely academic part, we are exposed to different cultures and learn how to communicate, to be open-minded and think outside the box," he added. He sees that as LAU graduates' "added value."
High school students, parents and career counselors got a glimpse of all this at LAU's annual "Pharmacy Day" last month in Byblos.
Eleventh-grader Sarah Bassil plans to apply to LAU's pharmacy program, following in the footsteps of her father, pharmacist Ziad Bassil.
"My father has taught me the love for learning, research and above all a passion for helping others," said Sarah at the event.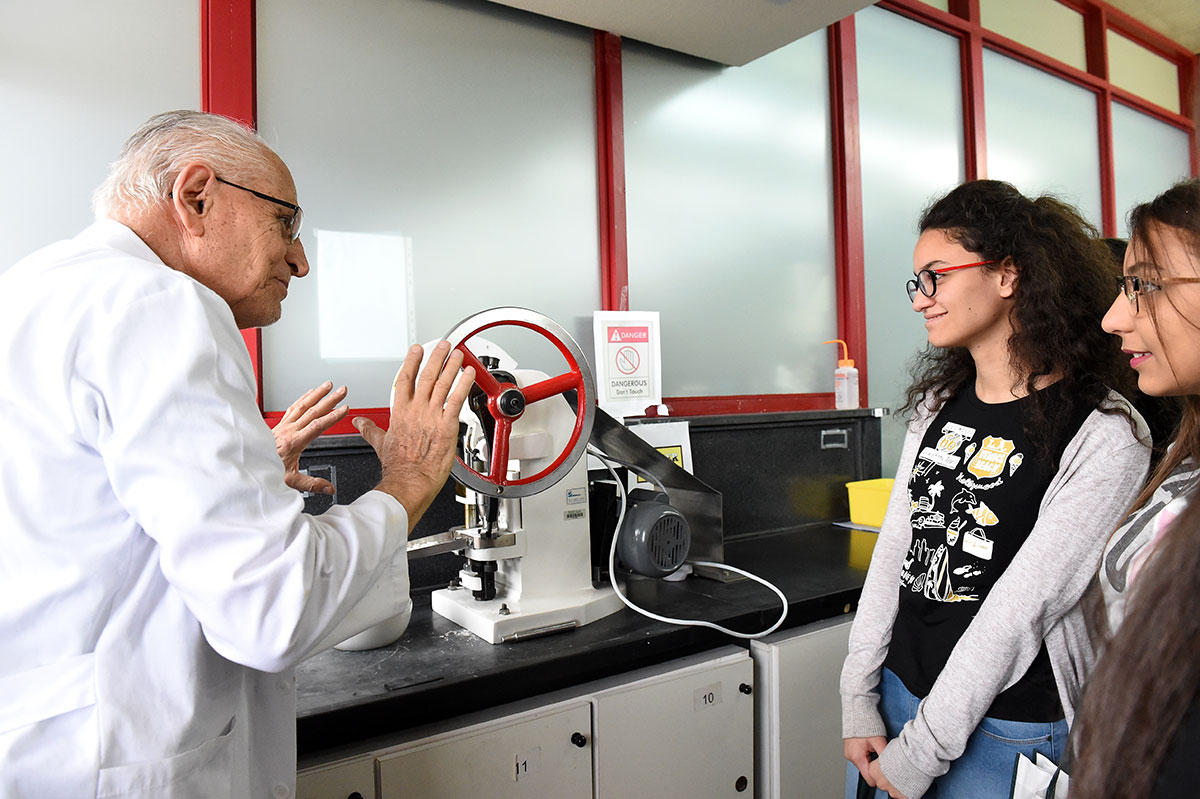 Dr. Anthony Capomacchia explains how a single-punch tablet machine works, producing up to 2,000 tablets per hour, at the Dosage Formulation Laboratory during Pharmacy Day. He is the assistant dean for student affairs at the School of Pharmacy.
Her aspirations are reflected in LAU's program. With a ratio of 12 students per faculty member, LAU pharmacy students are strongly mentored and carefully followed on a clear progression path.
After two years of pre-pharmacy, students may opt for a B.S. (three years) or a Pharm.D. (four years). The former qualifies graduates to sit for the National Competency Assessment Examination (Colloquium) in Lebanon. The latter enables graduates to sit for the North American Pharmacy Licensure Examination in the United States.
LAU's Pharm.D. is the only ACPE-accredited program outside the United States.
"Enrolling in LAU's pharmacy program is a guarantee of a future," said pharmacist Noha Maksoudian, who was among the hundreds of Pharmacy Day guests.
Her daughter Nina has been accepted into the pharmacy program for fall 2017 and her eldest son is already on it. "The curriculum offers its scholars a wide range of employment opportunities — this is why I encourage my children to join," she said.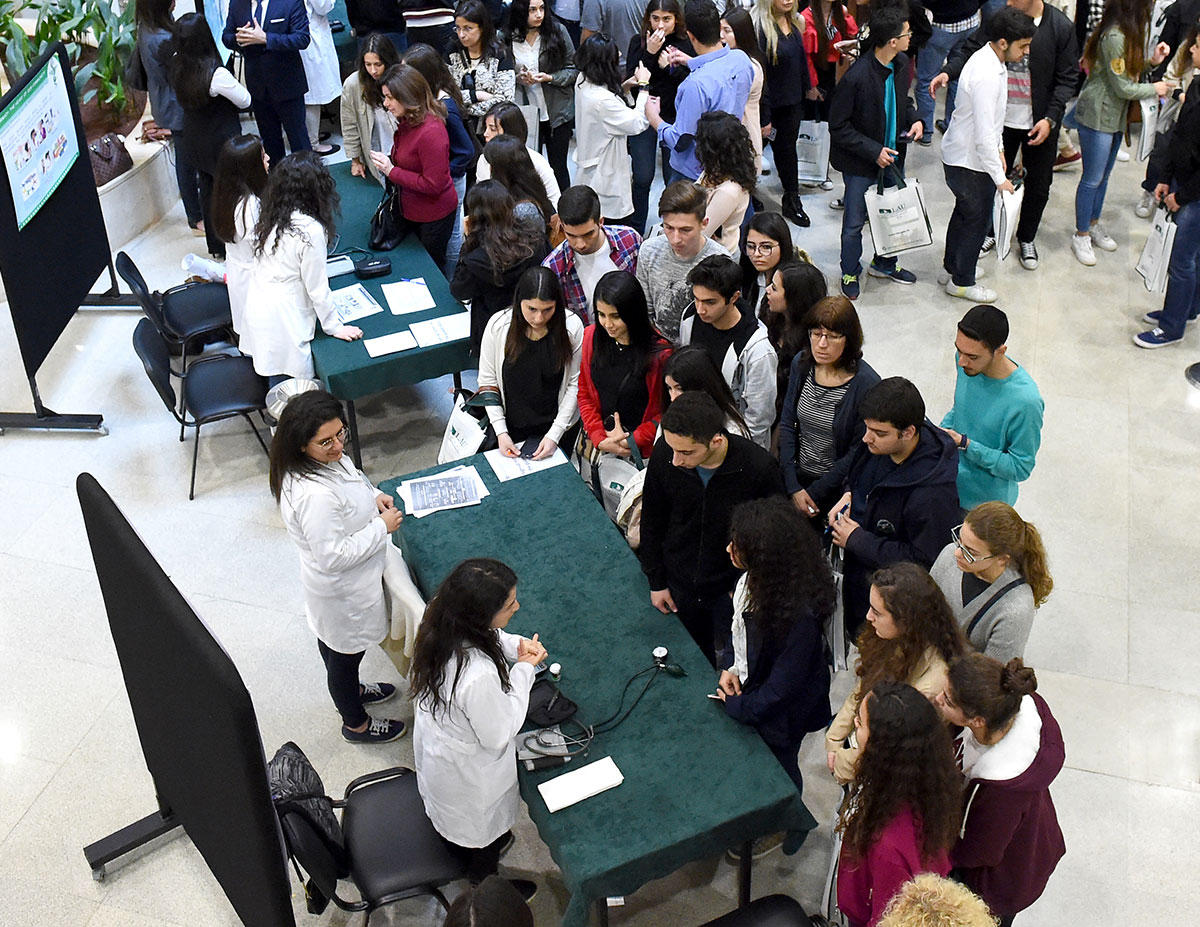 LAU pharmacy students answer questions from interested high school students at Pharmacy Day last April.
LAU-taught pharmacists learn to take an active part in multidisciplinary health teams. In addition, they acquire unique hands-on experience through lab work and a state-of-the-art Clinical Simulation Center.
"Pharmacy is a practice-based profession. We need to minimize mistakes and improve patient safety," said Dr. Imad Btaiche, dean of the School of Pharmacy. "Therefore, our program encompasses training in collaborative work and simulation," he said.
"We want our graduates to be work-ready, and to impact positively the outcome on patient care by improving medication efficacy and safety," he added.