Discovering diplomacy
LAU students pay a visit to the Lebanese Ministry of Foreign Affairs and Emigrants.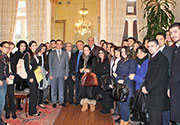 "Our doors are always open," Minister Mansour told the students.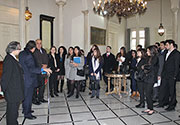 Participating in this first-of-its-kind visit, students were eager to hear more from their hosts.

The class and their hosts pose in front of the ministry.
Click on any photo to view all three pictures.
As part of the Diplomacy and Consular Services course — an undergraduate module taught by Dr. Makram Ouaiss, assistant professor of political science and chairperson of the Department of Social Sciences — a coterie of political science and international affairs students paid a visit to the Lebanese Ministry of Foreign Affairs and Emigrants earlier this month.
This spirited initiative aims to help students have a better grasp and understanding of the ministry's work, functions, structure and processes in Lebanon.
"The visit helps the students see how the concepts and examples reviewed in the classroom are put into practice by the Lebanese Ministry of Foreign Affairs and Emigrants, and how Lebanon's foreign policy is implemented," explains Dr. Ouaiss.
"Our doors are always open to all educational institutions — especially those that are as prestigious and august as LAU — because they harbor the ambassadors, politicians, and leaders of tomorrow," said Minister of Foreign Affairs and Emigrants Adnan Mansour upon meeting the students.
Soon-to-be Lebanese ambassador to Turkey Mansour Abdallah was all but reluctant to share his philosophy on media coverage with the class. "Don't underestimate the role of the ministry. Despite everything, Lebanon has preserved its representation of a unified Lebanon," he said.
With over 80 missions around the world, Lebanon's representation abroad is much larger than that of a country of comparable size, explained Abdallah, before adding that the ministry's work is divided between 12 specialized directorates.
Doubtless, the media plays a significant role in both stressing and understating local and regional happenings. Dr. Toufic Jaber, soon-to-be Lebanese ambassador to Serbia and one of Lebanon's spokespeople at the UN Security Council, expounded on how his team succeeded in condemning Israel for polluting Lebanese shores following oil spillage after the Israel-Lebanon war in 2006, a conquest that was significantly downplayed in the media.
Abdallah and Jaber discussed the evolution of the role of the Ministry and the diplomats, both of which go beyond bilateral relationships to cater to the changing needs of today. "Progress occurs in times of peace, not war. The Ministry has taken many blows over the years because of war and conflict, but it is doing its best despite it all," said Abdallah.
"Hearing about such a great accomplishment was a first for many of us," said student Myriam Aziz, "We were eager to hear more about those successes because we seldom hear or read about them. It's mostly the negative aspects of things that we learn about on the news."
Remarking on the great number of female students in the class, Abdallah encouraged the budding scholars of LAU to join the ranks of politicians should that be their calling. "One third of Lebanese diplomats are women," he said, with Jaber proudly adding, "Women can be better diplomats than men."
This article was developed thanks to the story written by political science student Myriam Aziz.