Discovering Gibran and his women on the LAU stage
The Prophet's Anonym, an ambitious theater production based on Gibran Khalil Gibran's life and epistolary relationship with women, ends on a high note.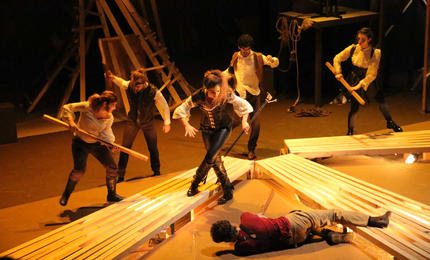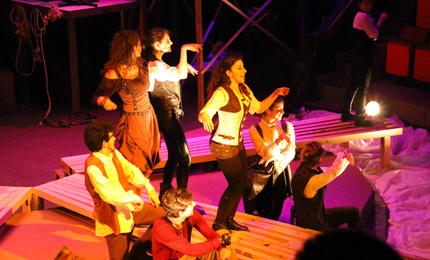 LAU students, staff, alumni, faculty and friends breathed a sigh of relief this weekend as the curtain was drawn on the last in a series of performances of The Prophet's Anonym, this fall's major theater production.
"It was an exhilarating experience," says the play's director and LAU Instructor in Performing Arts Omar Moujaes. "Ever since I was a student here it has been my dream to direct the major production. It was a big responsibility, more than if I had staged it at a public theater, because I was working with my own students," adds Moujaes, who himself graduated from the Communication Arts department in 2012.
The theatrical production was well received by the public and media, despite the sensitivity of the subject matter and the director's fears. "Gibran is a national icon and we were taking the audience on a journey of discovery into the many women in his life," says Moujaes of Gibran Khalil Gibran, on whose life the play was based. "We had to choose our words carefully so as not to offend."
The play is set on a ship bound for Orphalese, the fictional city which the title character of Gibran's best known work The Prophet leaves by ship. As such, it is in some ways a prequel to Gibran's book of parables.
Just as Gibran's character Almustafa speaks with different characters during his voyage from Orphalese, so too does Gibran converse with characters who appear before him along his journey, throughout which his sick brother and mother are present. The main difference lies in the fact that the characters in Moujaes' play are all based on real people from Gibran's life and letters written to and from them.
"Those unfamiliar with Gibran's book and the fantasy world it inhabits, which is reflected in our play, are led to an understanding through the letters read out loud by May," says Maria Bechara, an LAU graduate who played the part of May Ziadeh, a Lebanese author with whom Gibran corresponded for years without ever meeting.
While Ziadeh's character is central to the play, the fact that many women influenced and impacted Gibran's work is the central message. "Despite his fame, we have never been presented to Gibran through the perspective of women. I found that most interesting," says Bechara, who also enjoyed the opportunity to compose the music for the production.
Music and dance are as prevalent as dialogue in the play. Just as Gibran expressed himself through prose, poetry and drawing, so too did Moujaes wish to use jazz, tango and a host of other styles as vehicles of expression. "We started with the script and worked collaboratively to add movement and sound," he explains.
The script was based on a book written by his uncle Salim Mujais, who has for years studied the many letters exchanged between Gibran and his female friends. "I was so pleased my uncle came from Chicago to watch the play. The production presented a different interpretation to his, but he loved it." Judging by the online and media coverage, so did those who attended one of the past week's performances.