Do androids dream of an olympic sweep?
Youth robot games rivet Byblos campus as LAU and First Lego League Lebanon host the 5th Open Arab Robotics Championship.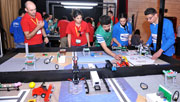 For the FLL competition, robots were required to complete several missions, pointing out the role and usage of robots in food safety, in accordance with this year's OARC theme.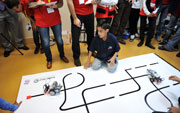 Robots participating in the Line Tracking Robot competition had to follow a complicating line-map autonomously, while being able to recognize the lines and bumps in order to reach the final stage.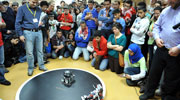 For the Sumo Robot competition, robots had to wrestle one another until one of them is thrown outside of the ring.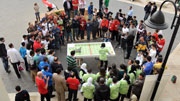 The Ball Collector competition featured various balls scattered on a map that the robots had to detect, gather, and place in a bin.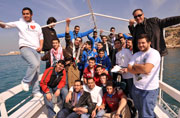 Before the championship started, organizers had planned a tour of the city of Byblos including a sea cruise.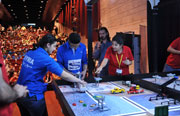 Contestants came from Syria, Jordan, the United Arab Emirates, the Kingdom of Saudi Arabia, Kuwait, Lebanon, Egypt and Qatar.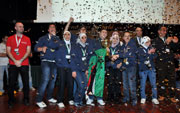 The N.X.T Leaders team from Jordan were crowned the 2012 Arab Champions.
Click on any photo above to view all seven images.
 In collaboration with the First Lego League (FLL) Lebanon and under the patronage of Lebanese President General Michel Suleiman, LAU hosted the 5th Open Arab Robotics Championship (OARC) on the Byblos campus, marking the first time Lebanon hosts the prestigious competition.
The three-day tournament took place March 9-12 on the Byblos campus, drawing around 400 contestants — all under the age of 20 — from all over the Arab World.
Participants built and programmed robots in order to compete in four different tournaments: the First Lego League (subdivided into Robot Missions, Robot Design, Core Values and Project), the Line Tracking Robot Competition, the Sumo Robot Competition and the Ball Collector Competition.
"We tried our best to improve our model — to have its weight equally distributed on its four legs to optimize its performance," says Omar Al Daqaq, a 14-year-old Syrian contestant. "We're all very excited to be here, even if our team doesn't win," he adds.
Al Daqaq says it is an honor and privilege to finally be able to participate in this year's OARC competition, after his team participated in a robotics championship in Syria.
"These contestants are the champions of robotics competitions in their homelands - this is an opportunity for the Arab youth to get to know one another in an event that is both educational and cultural," says Dr. Ramy Harik, president of the OARC organizing committee and assistant professor of industrial and mechanical engineering at LAU.
The competition has a theme each year. This year's was "food factor," calling for participants to investigate a food item of their choice and find a way to improve its safe delivery to consumers. Having identified a contamination or spoilage problem, the teams were tasked to develop an innovative solution — a new idea or an improvement of an existing one.
Previous years' challenges have tackled topics such as nanotechnology, climate, quality of life for the handicapped population, and transportation.
The meticulous conception of fully functional, independent droids is not the competition's sole purpose, to be sure. OARC also aims at promoting the skills, experience, and potential career opportunities of its young participants.
Indeed, remarked Dean of the School of Engineering Dr. George E. Nasr during the opening ceremony, OARC seeks to promote not only creativity and technological advancement but also leadership skills and commitment to civil society.
"This is where knowledge and technology intersect in a setting that fosters both innovation and sociability," says Nasr.
The jury consisted of faculty members from various Lebanese universities, including LAU, the American University of Beirut (AUB), Université Saint Joseph (USJ), Notre Dame University (NDU), the Lebanese University and the Hariri Canadian University (HCU) along with representatives  from the Ministry of Economy and Trade and Roadster Diner. 
Farah Shaddad from Jordan and Abdel Rahman El-Zein, from Lebanon, whose teams were crowned the 2012 Arab Champions and the Robot Missions Champions respectively, were rewarded with scholarships covering 50% of their undergraduate studies at LAU. Both teams, N.X.T Leaders and Dawn of Innovation 2, subsequently qualified for the Food Factor World Festival, which will take place April 25-28.
"At LEGO we see you, the students involved in FLL, as the coolest kids in the World — keep it as a secret," said Gerharrd Bjerrum-Andersen, representing FLL World Challenge, in lighthearted remarks to OARC contestants.
"I am impressed by your energy and commitment — you are ambassadors of FLL. You are all winners just by coming here," he added.
The 2012 OARC competition was sponsored by Roadster Diner, Cisco, Samsung, Hawat Trading Co., NRJ, and the municipalities of Blat and Byblos.