Documentary makes domestic workers' voices heard
A documentary by award-winning director Carol Mansour exposes the working conditions of foreign domestic workers employed in Lebanon.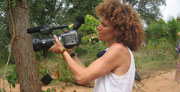 Carol Mansour shooting Maid in Lebanon I scenes in Sri Lanka.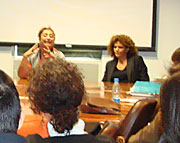 Dr. Simel Esim and Carol Mansour discuss the film with attendees at the LAU screening.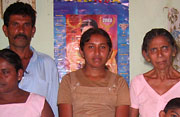 A Sri Lankan girl featured in Maid in Lebanon I prepares to leave her home.

Click on any photo above to view all three images
Thousands of foreign women come to Lebanon every year to make a living as domestic workers, but many of them have their goals shattered by mistreatment and abuse. The issue was forcefully conveyed in Maid in Lebanon II: Voices From Home, a documentary recently presented on the Beirut campus by three LAU institutes.
Directed by award-winning Carol Mansour, Maid in Lebanon II was filmed in Sri Lanka and Lebanon with funding from the International Labour Organization. The piece is part of an awareness campaign dubbed "Gender Equality at the Heart of Decent Work," led by ILO's Regional Office for Arab States.
Maid in Lebanon I (2005) revealed cases of torture, exploitation, rape and suicide.
The sequel, produced in 2008, featured four Lebanese employers and recounted the working conditions of their housekeepers. It also addressed the rights and obligations of both sides under the Lebanese law.
According to a 2006 study mentioned in the film, in Lebanon 100,000 domestic workers were subjected to verbal abuse, 60,000 to 70,000 to physical punishment and food deprivation, and 10,000 to 20,000 to physical and sexual abuse.
A Sri Lankan domestic worker featured in the documentary said she worked for eight years without pay. "I couldn't send letters nor make phone calls and was always jailed in the house with the lights off," she said.
Another migrant worker in the film only recalled waking up in a hospital, paralyzed from the waist down, with her hands and back broken. "They told me I fell from the fifth floor," she said, adding that she had lost all memory of her childhood and the years she spent in her homeland.
"They demand so much," an employer complained. "You can't even beat them anymore because they've become so rude."
The film included interviews with more benevolent hosts. Ghada Najjar, an employer interviewed in the film, said Jelly, her maid, is considered a "helper who is loved and respected." Another woman said her housekeeper is allowed to travel three months per year. "She also goes out, has fun and her friends come over," she says in the interview.
ILO is planning to screen the documentary at other universities, NGOs, community centers and 250 public schools. The LAU event was organized on November 19 by the Institute for Migration Studies, the Institute for Women's Studies in the Arab World and the Institute of Diplomacy and Conflict Transformation.
Mansour thinks this initiative should be expanded. "A regional documentary should be done due to the shocking realities that are occurring in the Arab world against domestic workers," she said.
Owner of Forward Productions, Mansour mainly shoots documentaries on social issues. At the 2007 New Zealand Documentary Festival, she won the first prize for A Summer Not to Forget, a short documentary about the July 2006 war in Lebanon. Her film about street children in Cairo, 100% Asphalt, received awards at the Institut du Monde Arabe in Paris in 2002 and the Rotterdam Arabic Film Festival a year later.
ILO's awareness-raising project is complemented by legal initiatives. During the Q&A session following the screening, Dr. Simel Esim, senior regional gender specialist at ILO's Regional Office for Arab States in Beirut, said the office has been drafting unified employment contracts in Arabic, English, French and the migrants' native languages. The contracts are to be given to the workers upon their arrival in Lebanon to safeguard the rights and responsibilities of employers and employees.
Esim said that ILO is also pressuring the government to draft new laws for migrant workers. "Days off, overtime, sick leaves are all being put under the law but we don't know when it will pass," she added.