Dr. Charles Elachi inaugurates the Mounir Khatib Endowed Engineering Lecture Series
Dr. Charles Elachi, director of NASA's Jet Propulsion Laboratory, presents the latest findings on Mars in a lecture that marks the launching of the Mounir Khatib Endowed Engineering Lecture Series.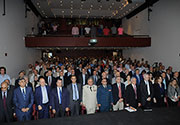 The Khatib family and LAU President Dr. Joseph G. Jabbra surrounded by dignitaries, LAU officials, faculty, students and guests.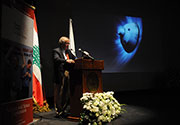 Dr. Charles Elachi addressing the audience.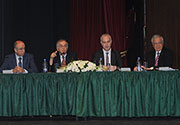 A Q&A session followed a panel discussion that gathered (from the left): Dr. Mouin Hamze, Dr. Elachi, Dr. Najib Khatib and Dr. Jabbra.
Click on any photo to view all three pictures.
On June 13, LAU hosted its inaugural Mounir Khatib Endowed Engineering Lecture Series in honor of a man who left his mark both on the university and on the global world of engineering.
"It is a terrific event for us," President Joseph G. Jabbra told a crowd of assembled dignitaries, LAU officials, faculty, students and guests. "We are gathered to honor the memory of a person who contributed immensely to the learning process by being a professor and who contributed immeasurably to society by building a major company that is serving not only Lebanon, not only the MENA region, but beyond as well."
Jabbra was referring to the world-renowned engineering firm Khatib & Alami, which Khatib founded in Beirut in 1959. A tireless worker with a passion for education and science, the family man was loved and respected by his peers.
Dr. George Nasr, dean of LAU's School of Engineering, praised him for having "left an everlasting mark on the engineering profession throughout the globe."
"Our school is an integral part of a dynamic university that is driving the search for truth and scientific knowledge," he added.
Born in 1927, Khatib was the son of a railroad employee who was determined to give his children a better education and better opportunities than he himself had.
Enamored with the emerging airline industry, as a young man Khatib wanted to be an aeronautical engineer, but his family pushed him toward civil engineering. Upon finishing his studies in the 1950s, he returned to Lebanon and promptly established his own engineering firm and began what would become a lifetime of teaching.
Friends and relatives recall that Khatib always said his work as a professor was the most rewarding and fulfilling experience of his life. In addition to his academic activities, Khatib was also a member of the LAU Board of International Advisors.
After his death in 2010, Khatib's family donated a sizable fund to SOE for use as an endowment to both financially support promising students who could otherwise not afford to attend LAU and to establish a series of lectures and seminars on topics not typically covered in regular courses for students and interested professionals.
Dr. Jean Chatila, chair of the Civil Engineering department and master of ceremonies at the lecture, described Khatib as a "humble, genuine and renowned achiever" who believed "in the education of the person as a whole and in the mission of LAU."
Attributes closely shared by the inaugural guest speaker of the lecture series: Dr. Charles Elachi, director of NASA's Jet Propulsion Laboratory. The former chairman of LAU's Board of Trustees, he spoke about NASA's most recent discoveries on Mars, thanks to rover Curiosity that landed on the red planet in August 2012.
The scientist explained how, through pictures and rock sample analysis, the rover revealed that water once flowed on Mars, and that sulfur, nitrogen, hydrogen, oxygen, phosphorus and carbon — some of the key chemical ingredients for life — were identified.
Elachi also presented the exploration projects NASA plans to implement in the future, including further probing of Saturn and Jupiter.
A panel discussion on the societal, educational and industrial impact of science and space inquest followed. Moderated by Jabbra, it brought together Elachi, Dr. Mouin Hamze, head of the National Council for Scientific Research and Dr. Najib Khatib, managing director and partner at Khatib & Alami.
"It's humbling to see what humanity has accomplished," Elachi said, encouraging audience members to always seek to "expand your knowledge."