Dr. Michel Mawad joins LAU as Dean of School of Medicine
After 30 years at the Baylor College of Medicine and two years at the Cleveland Clinic in Abu Dhabi, Mawad steps up to lead the Gilbert and Rose-Marie Chagoury School of Medicine.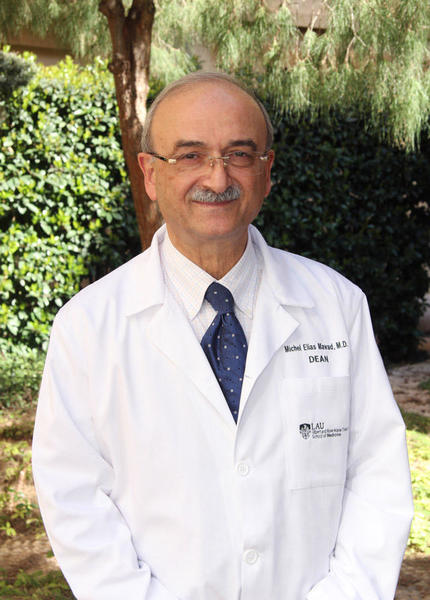 Dr. Michel Mawad was officially named as the new dean of LAU's Gilbert and Rose-Marie Chagoury School of Medicine.
"We are fortunate to have Dr. Mawad join us… His education, skills, and experience are impressive," said LAU President Joseph G. Jabbra in announcing the appointment.
For his part the new dean looks forward to building on what he calls a fantastic school, with a unique curriculum, superb faculty, a top notch campus — "one of the best I've seen" — extremely good facilities, and a very competitive student body.
The deanship is an ideal role for a man who is equally experienced in and motivated by clinical, academic and administrative duties. "At different stages of my life I pursued different legs of the stool," Mawad says. "At times I was either doing a lot of research — clinical and preclinical studies and human protocols — or mostly teaching and giving loads of lectures and seminars or being very busy clinically," he adds.
Mawad trained in interventional neurosurgical procedures at the Neurological Institute and Columbia University Hospitals in New York. He spent 32 years at Baylor College of Medicine (Texas), where he worked in the field of cerebrovascular disease, pioneering a number of minimally invasive techniques for the treatment of cerebrovascular disorders such as aneurysms, AVMs, and stroke. He currently holds several patents, among them one on a retrievable shielded radiotherapy implant (1996) and another on an apparatus for performing balloon angioplasty and stent deployment (2000).
His various roles at Baylor included the chairmanship of the department of radiology and holding tenured professorships at the departments of radiology, neurology, neurosurgery, and ophthalmology. "I had gotten used to accomplishing things on the administrative side — hiring people, building sections and departments — and I like that," he shares.
American Board-certified, Mawad is a member of eight medical organizations, topped by the World Federation of Therapeutic & Interventional Neuroradiology (WFITN) which he helped establish, ultimately becoming its president. He sits on the editorial board of several prominent journals, including Interventional Neuroradiology (the official journal of the World Federation of Interventional & Therapeutic Neuroradiology), the American Journal of Neuroradiology and the Journal of Neurovascular Disease. He boasts a list of over 300 scientific publications and has received numerous research and educational grants totaling $4,255,000 in addition to being bestowed with various honors and awards along the way.
As the new dean of the School of Medicine, Mawad intends to expend most of his energies developing the clinical practice at the LAU Medical Center-Rizk Hospital, which he refers to as the school's clinical campus in Beirut. "It is a huge responsibility to teach a third or fourth-year medical student or a resident how to take care of patients. Teaching new physicians holds a higher level of responsibility than any other in my opinion, and it is trickier to accomplish."
Prior to his appointment at LAU, Mawad had spent two years working in the field of stroke service in Abu Dhabi, building a stroke center for the renowned Cleveland Clinic's extension in the emirate. "It was a good interim phase between what I had been doing in the States, and something in and for the region," he says. But joining LAU at this time holds special meaning for the new dean.
"I left in 1976 planning to spend four years abroad to complete my training before returning to Lebanon to give back to my community," recalls Mawad. Forty years later, he returns to his home country, ready to devote his energies to the LAU's goal of providing a medical education second to none.