Dubai festival gives students inside scoop on advertising industry
Two LAU graphic design students gain exposure to advertising trends during one of the region's largest advertising conference in Dubai.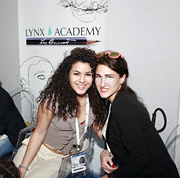 LAU student Sybil Layous (right) with a fellow Dubai Lynx Academy participant.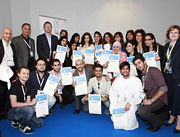 Dubai Lynx Academy students hold up their certificates of participation.
Rasha Fattouh and Sybil Layous, LAU graphic design students from Beirut and Byblos campuses, respectively, recently participated in Dubai Lynx Academy, a training seminar held March 27-29 during the Dubai International Advertising Festival, one of largest advertising festival of the MENA region.
"The Lynx Academy presents a unique educational program during the festival tailored to the needs of university students" from around the region, says Carol Hanna, director of People and Culture at advertising firm Leo Burnett
MENA, sponsor of the academy for three consecutive years.
In addition to having access to the festival's two-day program of seminars, workshops and evening events, the group of 21 students benefited from personalized tutorials from top industry figures, giving them firsthand access to expert knowledge and experience, according to Hanna.
"The experience helps increase the students' knowledge about the advertising and communications sectors, giving them the skills they need to stand out from the crowd when they embark on their career," Hanna adds.
Leo Burnett asked universities from around the MENA region to recommend top students with a mixed marketing and creative background. The final selection was made based on how well the nominees pitched themselves in a cover letter. Six students were selected from the Levant (five from Lebanon and one from Jordan). Leo Burnett covered the students' travel and accommodation expenses.
Layous, 21, says the conference opened her eyes to new cultures and advertising concepts. "They gave us a project where groups of us had to create an ad campaign for a product. I got to work with students from the UAE, Saudi Arabia and other countries, and even though our cultures are quite different, you learn that we're all so much alike, especially in our creativity," she explains.
"Experiences outside the classroom, campus and the country to collaborate and learn from creative individuals from across the globe open doors to opportunity, learning and personal growth for our students," says Tarek Khoury, co-chair of the Graphic Design Department at LAU Byblos, who nominated Layous for the position.
Khoury calls her "an exceptional student." He says that "in every design class, she goes beyond the requirements of the projects." He adds: "She is talented in all aspects of the design process, from concept development, creative approach, research and writing, to design execution, technical skill and hand craft."
According to Layous, the seminars focused mostly on the future of advertising. "Advertising is no longer just about the 30 second ad on TV or a billboard ad," she says. "The conference showed us how the advertising world is moving towards social media and utilizing new technologies, and how to cope with these changes."
Fattouh, 20, was nominated by Randa Abdel Baki, chairperson of the Graphic Design Department at LAU Beirut. Fattouh agrees that the experience offered exposure to new ideas.
"[I learned that] the power of humankind is one of the major catalysts for creative ideas," Fattouh wrote on the Leo Burnett MENA blog after the academy. "Curiosity leads to creativity as well … Advertisers should not be talkers but doers that are capable and talented enough to handle a lot of toughness in order to pursue a great idea," she wrote.