Dubai internship ushers in annual program for LAU civil engineering students
Inaugurating an annual training program, three LAU civil engineering students interned with a contracting company in Dubai alongside six American students.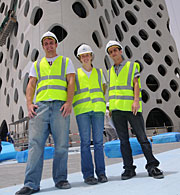 LAU student Hisham Abou Ibrahim (right) with two Syracuse University students in front of the O-14 Tower, an office building that DCC works on, after examining the waterproofing system.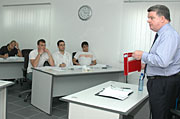 During a construction management lecture in a DCC classroom.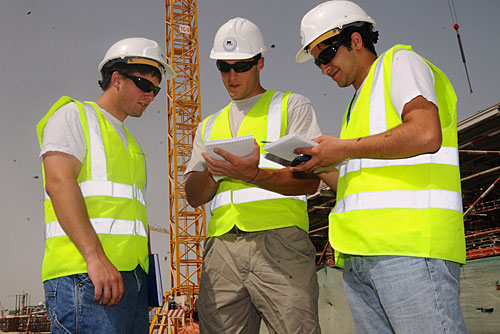 LAU student Michel Nasr (right) with two SU students writing notes while working at the "Kingdom of Sheba," one of the construction sites DCC operates on.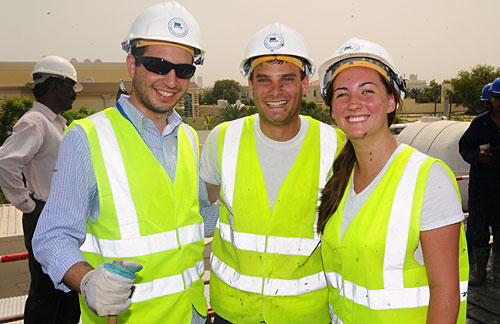 LAU student Alain Dib (left) poses with two SU students after pouring slabs of concrete at Al Manara Villa, one of the construction projects DCC works on.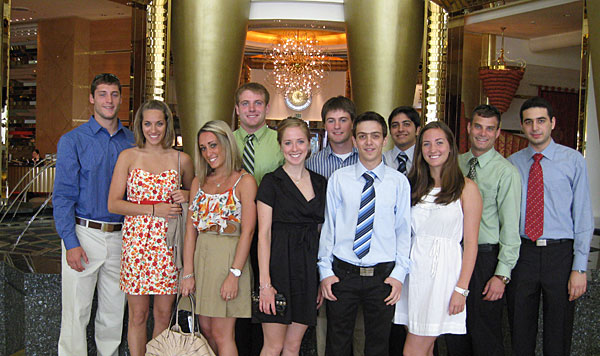 The LAU and SU students, including two participants from last year's internship, in Burj Al Arab hotel during one of the planned outings.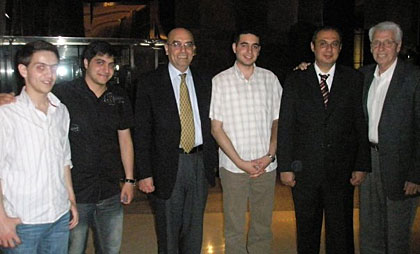 The three civil engineering students with Dr. George Nasr (3rd from left), dean of LAU's School of Engineering and Architecture; Samir Kadi (2nd from right), LAU assistant vice president for Development; and Dr. Samuel Clemence (1st from right), professor at SU's Department of Civil and Environmental Engineering, at the closing ceremony of the internship in Dubai.

Click on any photo above to view all six images
Three LAU civil engineering students completed a six-week internship at a prominent contracting company in Dubai alongside American students from Syracuse University, marking the beginning of an annual training program for students from LAU's School of Engineering and Architecture.

The first group of third-year LAU students participated in the newly established internship program from May 14–June 25.

The students gained first-hand experience working at the Dubai Contracting Company, which handles construction, turnkey solutions, and service contracts in various countries in the region, such as the UAE, Jordan and Saudi Arabia.

In addition to fieldwork at nine construction sites DCC operates on, LAU students Alain Dib, Hisham Abou Ibrahim and Michel Nasr did office work, enrolled in courses, conducted case studies, participated in discussions, and prepared reports and presentations.

"It's a priceless experience," says Dib. "I don't think that in any other internship you will be cared for by the staff and by the faculty as much as we were."

"Our students … performed in an outstanding manner throughout the six weeks," says Dr. George E. Nasr, LAU professor and Dean of the School of Engineering and Architecture, who helped bring the program to LAU. "They worked very diligently on the construction sites and excelled in the classroom as well," he adds.

Besides being a rigorous internship that provides exposure to professional work and technical knowledge related to their field of study, the program also offers a "rich cultural experience," Dean Nasr says.

Throughout the program, the Lebanese trio worked intimately alongside six American students from Syracuse University, New York, forming a relationship they describe as unforgettable.

"We had come from different social and academic backgrounds, so it was normal to have walls between us in the beginning," says Abou Ibrahim. "But near the end, we became very close to each other."

The DCC internship program was first introduced last year and paired up engineering students from SU with their counterparts from the American University in Dubai.

After several discussions between Dean Nasr and Abdallah Yabroudi, CEO of DCC, the company agreed to offer the internship annually, accepting up to six students from LAU and six from SU.

"Yabroudi … is very much interested in contributing to engineering education," Dean Nasr says, praising the DCC chief for being a major supporter of LAU's civil engineering program by providing an endowment scholarship fund and financing the Civil Engineering Achievement Award, the Best CIE Design Project Award, and CIE field trips.

The students also expressed appreciation for the benevolence of Yabroudi, who financed the entire internship and spent a good portion of his time guiding them throughout the program.

"His generosity made everything possible," says Michel Nasr. "He went with us to the sites and spent a lot of time with us during our presentations and lectures."