Economic statecraft
LAU hosts U.S. Ambassador Maura Connelly to discuss economic challenges facing Lebanon.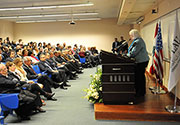 U.S. Ambassador Maura Connelly addressing the audience prior to a Q & A session moderated by Dr. Said Elfakhani, dean of the School of Business..
Click on photo above for larger version.
On February 20, U.S. Ambassador to Lebanon Maura Connelly was welcomed to LAU Beirut to discuss Lebanon's economic future. Connelly gave a thorough diagnosis of the current economic challenges facing the country to a room filled with prominent guests, faculty and students.
"A strong, sovereign, stable, independent Lebanon is what the U.S. wants to help foster," explained Connelly. According to the ambassador, one of the most important ways to accomplish this goal is to increase trade and safeguard the economy. "Armed conflict is less likely to occur in a country where the economic situation is good," she asserted.
Acknowledging the difficulty of sustaining a viable economy in a politically volatile region, Connelly pointed to certain endogenous disabling factors such as slow download speeds, as barriers to increased trade. In spite of the fact that Lebanon is connected to the massive undersea India Middle East Western Europe cable system, the country's download speed ranks 147th out of 180 countries.
However, Connelly believes there is potential for a robust economy and expressed admiration for the Lebanese people's impressive resilience to withstand turmoil. "For such a small country—smaller than most U.S. states—the Lebanese make a huge impact all over the world."
She also pointed to Lebanon's highly developed civil society networks as a strong foundation for advocating change.
The ambassador further singled out the successful LAU-Middle East Partnership Initiative (MEPI) as one of the most valuable investments for the future of the country. The U.S. State Department-funded program offers financial assistance in the form of scholarships to students from across the Arab world. Recruited applicants must demonstrate exemplary leadership qualities as well as academic excellence.
"This was a very thought-provoking presentation," said second-year LAU biology student Joan Khoury. "I was surprised to learn that the U.S. is Lebanon's number one trading partner and that trade quadrupled from 2005-2010. … I hope our politicians can put aside their differences and focus on fixing our economy."
When asked what she considers to be some of Lebanon's unique assets, Connelly responded on an optimistic note: "LAU is an example of Lebanon's immense strength - a student body that is often trilingual with a strong entrepreneurial culture - these are all great attributes for trade."
Connelly left her hometown of New Jersey for Washington in 1975 to serve as a page in the U.S. House of Representatives. She officially presented her diplomatic credentials to Lebanese President Michel Sleiman as the 25th U.S. ambassador to the Republic of Lebanon in September 2010. Referring to her exceptional ascension up the diplomatic ranks of the U.S. Foreign Service, LAU President Dr. Joseph G. Jabbra remarked with admiration, "Her story is an American story."