Educating tomorrow's doctors
LAU's Gilbert and Rose-Marie Chagoury School of Medicine hosts a conference on trends in medical education.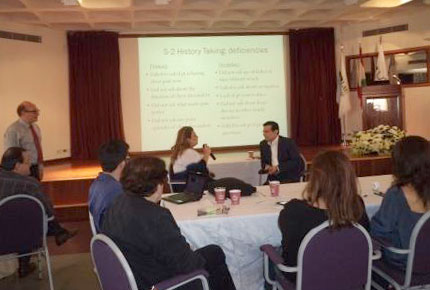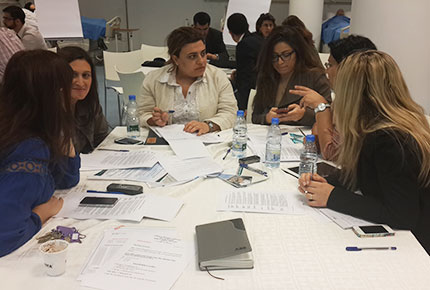 On November 10, LAU's Gilbert and Rose-Marie Chagoury School of Medicine (SOM) was delighted to welcome Dr. Ara Tekian, associate professor and director of international affairs and associate dean for the office of international education college of medicine at University of Illinois (UIC), to a four-day conference on the latest trends in medical education.
"Medical education is my passion. I really enjoy teaching and conducting faculty development activities covering numerous topics in health professions education," enthused Tekian.
His workshops focus on curriculum development, assessment, program evaluation and patient safety. Dr. Zeinat Hijazi, LAU assistant dean for medical education, explained that Tekian brought with him years of valuable experience, having conducted over 150 workshops in more than 40 countries, and being well published in the best journals.
As a globally renowned scholar and leader in health professions education, Tekian has been the recipient of international recognition and many accolades, as well as having received the esteemed Gold Medal from the Association of the Study of Medical Education (ASME) in 2012.
"It was so encouraging to see the high turnout for this workshop, I'd heard so much about this university," he said. Tekian, who has Lebanese roots, travels extensively in the region with the mission to contribute to the advancement of medical education.
The conference kicked off with a workshop entitled: "Promoting Active Learning and Identifying the Role of a Doctor." Tekian provided helpful insights into ways to engage and motivate students, pointing to the value of interactive classrooms and the importance of raising the level of critical thinking.
The daylong event outlined several strategies to improve the quality of leading discussions in the classroom such as generating "truth statements," posing a controversial question and using storyboarding, etc…
He also described the significance of identity formation among medical students, stressing the need to instill a deep-rooted commitment to excellence in the early years of medical school.
Later that evening, Tekian gave an engaging lecture that was open to the public on the past, present and future of medical education.
"This lecture has been highly fruitful," said Dr. Myrna Doumit, associate professor and assistant dean of LAU's Alice Ramez Chagoury School of Nursing. "This event gave me a fresh perspective on the importance of interactive learning and teaching that is student-focused."
Dr. Vanda Abi Raad, associate professor at SOM's department of anesthesiology, points to LAU's spirit of innovation with respect to medical education as the impetus for organizing the conference. "This is a great opportunity for everyone at LAU Medical Center–Rizk Hospital to benefit."
For Dr. Youssef G. Comair, dean of LAU's SOM, the university is a leading contributor to medical education and such lectures nurture its role as a significant player in this field. "Certainly there is a direct correlation between the quality of healthcare education and that of delivery of care for patients in the country and throughout the region," he said.
A special acknowledgement to the following faculty and staff members of the School of Medicine who were instrumental in organizing the event: Dr. Youssef Comair, Dr. Zeinat Hijazi, Dr. Jacques Mokhbat, Dr. Sola Bahous, Dr. Eddie Abdalla, Dr. Vanda Abi Raad, Dr. Youssef Chami, Dr. Nadia El-Asmar, Dr. Gerard Wakim and Lama Naim.