Education: a continuous process
Faculty and staff members from educational institutions all over Lebanon answered the Department of Education's call to deliberate the necessity of continuous learning.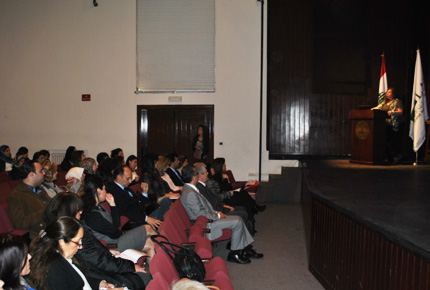 In what has become an annual tradition, the Department of Education, in collaboration with Levant Distributors, hosted the much-anticipated workshop on Continuing Professional Development (CPD). The two-day event, targeting school principals and schoolteachers, kicked off at LAU Beirut on February 28.
A building block of modern-day education, CPD is a tried and tested means by which knowledge and skills related to professional lives are maintained. In yet another resounding success, over a hundred faculty and staff members from educational institutions throughout the country attended the event, which tackled the polemic topics of school accreditation, assessment and active learning in the classroom, as well as community services and quality of education in early childhood.
Always a hot issue, accreditation was put under the microscope as schools shared the experience and urged others to follow suit. "Accreditation is a process not a status," explained Alice Azar Wazir of the Beirut Baptist School. She went on to point out that the procedure promoted collaborative problem solving and open communication by collecting, analyzing and using the data to identify the school's needs and plan for required changes in the instructional program.
The next step was assessment, but of the students this time. Demonstrating tangible changes in the field, Chadi Nakhle, dean of students and instructor of economics at Brummana High School, stressed that assessment should be something that is done with and for students, not to them. "Assessment and instruction should be interwoven in a way to benefit students, to know where they stand and for teachers to be able to redesign, refine or improve teaching methods when needed," he explained.
When questioning what it was that grades reflected, Ahliah School's Rida Ayache said, "Students should be assessed on almost everything they do. But everything that is assessed does not need a score. And not every score should be included in the grade."
LAU's focus on student centeredness was largely echoed at the event with active learning at the forefront of the debate. "Active learning techniques are no longer an option, they are imperative," said Interim Dean of the School of Arts and Science, Nashat Masour emphasizing the importance of engaging students as partners in the teaching process
"It is simply an approach to teaching in which students engage with the material they study through activities," said Dr. Mona Majdalani, professor and chair of the School of Arts and Science's teaching/learning committee. Active learning promotes problem solving, critical thinking, analysis, synthesis and evaluation of the information. The interactive components support the goal and the educational objectives for the learning activity, be it think-pair sharing, writing, debates, role playing case studies, etc.
"The importance of the workshop lies in its discussion of the current trends and problems in the field of education. By acknowledging these new ideas, we as teachers can adopt and implement them in our schools with our students to create high quality learning," said third year early childhood education major, Ghida Ezzeddine, describing the event.
"It is through these events that school principals, coordinators and teachers get to know us and we get to know them," pointed out Dr. Rima Bahous, chair of the education department, commenting on the event's significance, "It is a platform for teachers to share their expertise and stories of success with others."