Elachi wants Middle Eastern youth to lift region
Lebanese-American space scientist Charles Elachi wants young people in Lebanon and the Middle East to turn the region into a leading economic and technological powerhouse.

Dr. Elachi (second from left) and JPL team inspecting a canister and sample collector.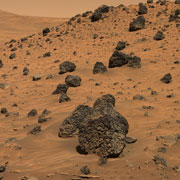 Image of Mars terrain collected by Mars Exploration Rover Spirit. Read more.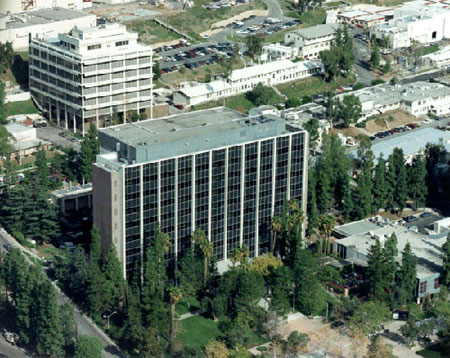 Aerial view of the Jet Propulsion Laboratory, Pasadena, California.

Click any image to view all four pictures. Third photograph from top: NASA/JPL-Caltech/Cornell/NMMNH. Other photos courtesy NASA/JPL-Caltech.
Lebanese-American space scientist Charles Elachi wants young people in Lebanon and the Middle East to turn the region into a leading economic and technological powerhouse.
"The Arab world has the potential, but not the infrastructure and the 'recent' tradition of scientific and technological research," he said in an interview. He noted it would require "a concerted and dedicated effort by leaders in academia, government and industry" to make Middle Eastern society start investing in opportunities for young people.
But the LAU trustee thinks technological advances have set the stage for change. "The communication revolution has flattened the world and given everyone, everywhere, access to information," he said.
"This presents people in Lebanon and the Middle East a golden opportunity to contribute and play a major role in the world's economic welfare," he said. He is confident that Middle Eastern youth can gain the abilities needed to lift the region out of technological and economic stagnation.
Dr. Elachi brings years of experience in academia, science and space exploration, adding luster to the body that oversees LAU's affairs.
He is director of the Jet Propulsion Laboratory and vice president of the California Institute of Technology, where he teaches electrical engineering and planetary science. His main area of expertise is the obtention, analysis and interpretation of imagery of planetary surfaces, including Earth.
"I hope my experience as a university professor, researcher and director of the world's leading space exploration center, will allow me to give an additional perspective on how to strengthen education and research in Lebanon, in general, and at LAU in particular," he said.
Dr. Elachi, a friend of President Joseph G. Jabbra, was delighted when he was tapped for consideration on the Board of Trustees. "I grew up in Lebanon and then moved to France and the U.S. for my university education and then my professional career, but I always felt that the Lebanese people have a lot of potential if given the opportunity," he stressed.
His eagerness to serve on the board was in tune with Dr. Jabbra's goal to make LAU a first-rate university and to help the young people of Lebanon achieve a higher level of education so they could contribute in the world of the future, he said.
The Jet Propulsion Laboratory was established by Caltech in the 1930s. It created America's first satellite, Explorer 1, and it sent the first robotic craft to the Moon and out across the solar system, surveying all of the planets except one. Pushing the outer edge of exploration became JPL's raison d'etre as a laboratory for the National Aeronautics & Space Administration.
Dr. Elachi was principal investigator on research and flight projects sponsored by NASA and was the lead investigator for the Shuttle Imaging Radar series. He served as co-investigator on the Magellan imaging radar and is team leader of the Cassini Titan Radar experiment orbiting the planet Saturn.
The globe-trotting scientist, who was born in Lebanon, studied physics at the University of Grenoble, France, before receiving a diplôme d'ingenieur from the Polytechnic Institute at Grenoble.
He went on to earn M.S. and Ph.D. degrees in electrical sciences from Caltech, adding an M.B.A. from the University of Southern California and an M.S. in Geology from the University of California at Los Angeles for good measure.
Dr. Elachi has authored over 230 publications in the fields of space and planetary exploration, Earth observation from space, active microwave remote sensing, electromagnetic theory and integrated optics, and holds several patents in those fields. Of his three texts on remote sensing, one was translated into Chinese.