Eliane Zakhem wins A' Design Award
Creative and practical stool by LAU Interior Design student receives international recognition.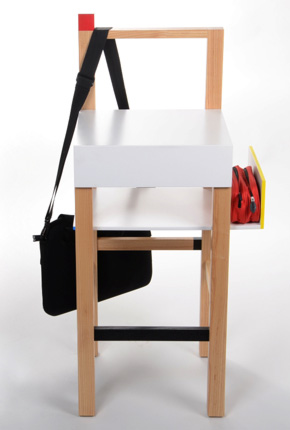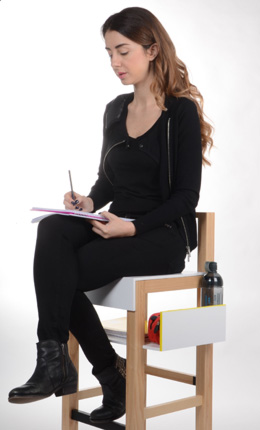 LAU Beirut Interior Design student, Eliane Zakhem, like any great designer, set out to solve a problem using a design that while aesthetically pleasing is at the same time extremely practical. The one problem Zakhem – like many fellow students – was continuously confronted with was the lack of space for her personal belongings or even her drawing tools during class. Instead of just noticing the issue at hand, this talented designer decided to create a stool that would meet the demand for sensible storage space. And this is how the Meline Stool was born.
"I wanted to include 'Me' in the name, because the idea came from my personal experience in drawing class. I added 'line' since drawing is about lines and there is the linearity of the stool," explains Zakhem. Unlike ordinary stools, this one comes with storage space for a variety of objects including water bottles, design tools, pencil cases and notebooks, there is even a peg from which one can hang their jacket. Light yet sturdy, the Meline Stool is an ingenious piece of furniture that can be easily used in classrooms.
Originally the stool was visualized for a Design Culture class project. For durability and strength Zakhem combined oak wood and MDF (Medium-Density Fibreboard) laminate seating to endure extensive use in a classroom setting. The pop touch came in her use of hand painted primary colors and an overall resemblance to iconic works of the Dutch De Stijl movement from which she drew her inspiration.
The practical and creative project that got Zakhem the recognition of her faculty, turned out to be an award winning one too after receiving the A' Design Award Winner in Furniture, Decorative Items and Homeware Design Category, 2013 - 2014. The premier annual juried design competition honors the best designers, architects, engineers, designs studios and design oriented companies worldwide to provide them publicity, fame and recognition. Every year, projects that focus on innovation, technology, design and creativity are awarded with the A' Award, whose logo is trusted internationally.
Cynthia Issa, Zakhem's teacher who oversaw the project believes such recognition boosts the student's self-confidence as a designer. "Sometimes, what you need is just that: a bit of confidence that goes with your skills and talents in order to perceive opportunities, take initiatives and make things happen for you." There is no doubt about this, as the young award-winning designer already has her sights set on getting her design out there and is planning to have the Meline Stool manufactured and sold on an international scale.