EMBA students benefit from expertise of Thomson Reuters Foundation trainers
The Adnan Kassar School of Business holds intensive three-day course in the practice of strategic corporate communications from a global perspective.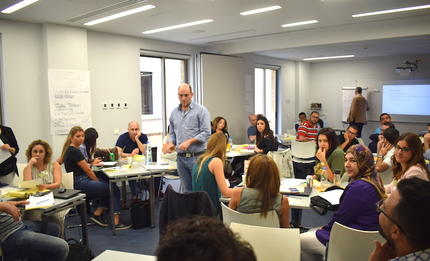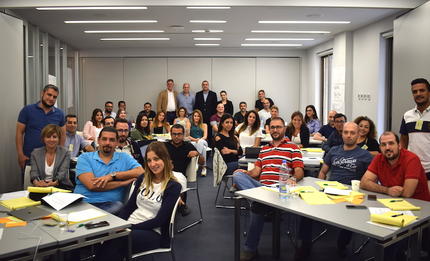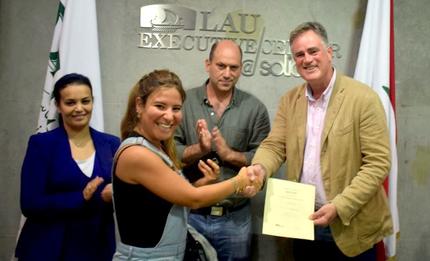 The Adnan Kassar School of Business recently partnered with the Thomson Reuters Foundation to deliver an intensive three-day course in strategic corporate communications for LAU Executive M.B.A. students.
"It was an outstanding and unique experience," says EMBA student and senior marketing manager at a medical technologies supplier Mazen Abadi. "The three instructors are all highly experienced in communications and the course was very dynamic and interactive."
Among the instructors was Paul Casciato, former correspondent and editor at Thomson Reuters Foundation and current director of Blue Lake Media, a U.K.-based agency. "The executives who took the course were intelligent, insightful and keenly engaged, because the course offered them practical skills that they knew would be useful in their business lives," said Casciato, who had designed the curriculum especially for LAU, combining elements used for courses he has taught at Cambridge University, as well as those for corporate clients and journalists.
Joining Casciato was Joseph Logan, a media, communications and journalism trainer and former Istanbul-based reporter and television producer, who has taught a variety of courses run by the Foundation. "People with a background in journalism and experience dealing with corporate messages from the other side of a camera or a screen can help private sector professionals save time, clarify strategic messages and enhance their impact," explains Logan, who has years of experience training journalists and professionals at the UN, NGOs and in the private sector.
Fida Haidar, program officer at the School of Business and coordinator of the course, agrees. "Gaining first-hand knowledge and lessons learned from the experts in global media who actually walk the talk is invaluable," says Haidar. "The simulations gave our executives the opportunity to learn while doing."
The course was highly interactive, with participants engaging in role-play, several communication exercises and hypothetical crises, undergoing on-camera interviews and developing communication plans for their own choice of product or service.
EMBA student Rindala Mansour particularly enjoyed the creative experience of developing a campaign for a cereal bar. "All the skills we learned were very useful and practical," says Mansour, an internal auditor at a leading Lebanese bank. "I always have to present my findings to auditees, who can be very defensive. This course taught me robust skills I can use to help with client communication and message focus." Meanwhile, fellow student Yara Kabrit appreciated the practical methods used in the course. "The simulations made it very easy and engaging to absorb the concepts and develop stronger communication and interpersonal skills," said the financial trader.
Heba Kandil, a trainer and representative of Thomson Reuters Foundation stressed the critical importance of strategic communication in this day and age. "In today's information-loaded world, executives need the vital skills of strategic communication to cut through the noise and competition, and to command attention and buy-in with their spoken and written word," she said. "It was a privilege and joy to impart our craft as seasoned communicators from a journalism background and witness LAU students gain confidence and develop clear, concise and compelling messages to support their growth as influential leaders in their professions."
"Our students were exposed to the concept and practice of strategic corporate communication from a global perspective, learning from one of the best teams in the industry," says Jalal Armache, director of the EMBA program. "We are committed to bringing industry leaders from Lebanon and all over the world to provide our students with global exposure and an education that is second to none."