Embracing change in a digital world
LAU civil engineering graduate student represents Lebanon on world stage at Connect Asia-Pacific Summit 2013 in Bangkok, Thailand.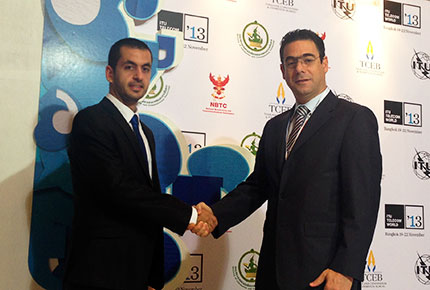 From November 19-22, the Connect Asia-Pacific Summit 2013 took place in Bangkok, Thailand under the auspices of the International Telecommunication Union (ITU) - the United Nations specialized agency for information and communication technologies - bringing together the top technologists from around the world. Chris Hasbany, a graduate from the Civil Engineering department of LAU Byblos, was the only student representative from Lebanon.
Hasbany beat out over 11,000 competitors in an online test, established by Lebanon's ministry of telecommunications, to participate in the Bangkok summit.
"The competition consisted of interpreting a hundred-page document about the performance of Lebanon and other countries of the world in the field of telecommunications," he explains. "After successfully completing that, I had to answer ten technical questions within a certain timeframe."
To Hasbany's surprise, he received an unexpected personal call from Lebanon's Telecommunications Minister, Nicolas Sehnaoui, informing him that he was the only individual winner of the competition and offering him an invitation to travel to Bangkok. The ITU summit was a unique opportunity for participants to share ideas and examine the best practices for introducing innovations to the public, as well as directly engaging with government officials to discuss the future of the ICT field.
As Hasbany explains, the summit consisted of several lectures, as well as panel discussions on a multitude of subjects. "There were usually several taking place at the same time, but I was able to attend the ones that most interested me," he says. "It was also an amazing experience, to represent my country and my university. I was able to engage in discussions with people from all over the world, as well as attend policy and innovation meetings. This, for me, has been an incredible experience and one that marked the way I view my profession," he adds.
"My experience at LAU has been instrumental in allowing me to represent Lebanon on this global platform. Even though I am a civil engineering student I have learned much more than simply engineering— at LAU they instill an innovative approach to critical analysis," Hasbany enthuses.
"This is yet another amazing student accomplishment," says Dr. Elise Salem, vice president of Student Development and Enrollment Management.