Empowering Arab women
LAU hosts the Arab International Women's Forum's conference on empowering women in the Arab world.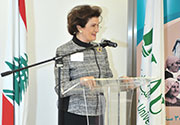 Haifa Al Kaylani, founding chairperson of AIWF, addressing the audience.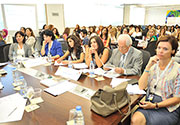 140 people from across the region attended the conference.
Click on any photo above for larger version.
Under the title "Young Arab Women Leaders: The Voice of the Future," the Arab International Women's Forum (AIWF), organized a one-day conference on September 20, addressing the importance of empowering Arab women, and bridging the gender gap in the Arab world.
The event was held at LAU Beirut in partnership with the university's Institute for Women's Studies in the Arab World (IWSAW) and PricewaterhouseCoopers (PwC). It provided a platform for young women leaders to discuss the role of gender in shaping the political, economic, and social opportunities available to women shedding the light on the demographic and communal transitions that helped to narrow the gender gap in the region.
"Arab women have come a long way," said Haifa Al Kaylani, founding chairperson of AIWF. "In the last decade alone, the gender gap across various sectors has been greatly reduced, with more Arab women serving as board members on educational institutions and corporate organizations than ever before, and taking up active roles in society as professors, journalists, doctors, anchors, lawyers, and rising sports stars."
As pointed out Country Senior Partner of PwC Lebanon Camille Sifri, companies today are also making more effort to retain women employees, and further bridge the gender gap in the workplace.
"Whenever women are not involved in the economy, the market suffers from talent scarcity," he said.
While the gender gap in the workplace is indeed in positive decline, women's increased involvement in education should be celebrated with caution, advised Dr. Dima Dabbous-Sensenig, director of IWSAW.
"It's true that more women are seeking higher education, but this participation, although significant, is not accompanied with an increase in women's political participation," she explained.
Former Lebanese Finance Minister Raya Haffar el-Hassan, was the first woman to be appointed to such senior post in Lebanon – regarded as one of the most liberal countries in the region. "Our biggest challenge today is to help women college graduates to land meaningful positions, and managerial roles. Bridging the gender gap isn't just about establishing equity and protecting human rights; it's about economy and efficiency."
Around 140 participants from across the Middle East attended the conference, which was also marked by several young women's personal account of their professional achievements, as well as the hindrances they faced on their vocational journey.
Guest speaker Dr. Mona Hammami's first day as a graduate student at the Harvard Kennedy School was September 12, 2001, only one day post-the September 11 attacks.
"(My classmates) asked me worriedly about where I come from, and how it's possible that a 'Lebanese girl' came all the way to the U.S. That was the first time in my life that I was defined according to my ethnicity and gender."

Now senior project manager at the Office of Strategic Affairs of the Court of the Crown Prince of Abu Dhabi, Hammami says she still feels discriminated against because of her age. "I sometimes have to tell people that I hold a Ph.D. just to be taken seriously," she said.
And yet, "Our region needs educated and experienced women, young and talented women to determine for it a sensible sense of direction and shape its development," said LAU Provost Dr. Abdallah Sfeir.