Empowering women to safeguard their lives
LAU alumna together with faculty member at the Alice Ramez Chagoury School of Nursing campaign against breast cancer and the stigma attached to it with C2 campaign.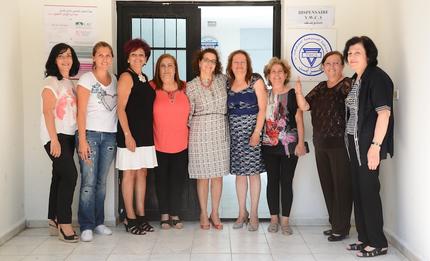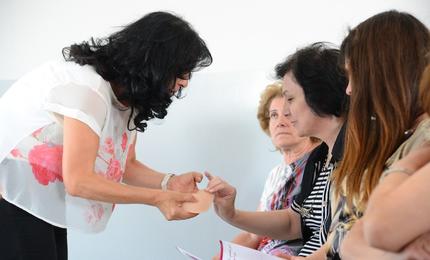 When U.S.-based LAU alumna Hiba Yazbeck (B.S. '97) was diagnosed with breast cancer at the age of 38 and began reading up on the disease, not only did she discover "that Lebanese women were more prone to cancer," but remarkably that "more were being diagnosed at a younger age." Wishing to do something positive for her countrywomen, Yazbeck reached out to her alma mater, LAU.
As a result, Yazbeck teamed up with Associate Professor and Assistant Dean at the Alice Ramez Chagoury School of Nursing, Myrna Doumit. Together, they launched "Courage to Fight Breast Cancer" or "C2," a program of awareness-raising sessions across the country, run by Doumit and launched with a $12,000 donation of cash and in-kind gifts by Yazbeck and her husband Chady Wehbe. Additional major support for the program is provided by the School of Nursing, which covers the necessary course release time for Doumit to extend her work into rural areas across Lebanon.
Doumit took on the project as a volunteer because she felt she owed it to her country and Lebanese women. "I know that breast cancer is something that can be detected early," she says, "and with early detection we have better prognosis."
Targeting rural areas in Lebanon, the campaign holds one-hour sessions to educate women about self-care measures and early detection. To maximize reach and attendance at the sessions ― which are held in partnership with the Ministry of Public Health ― the organizers coordinate with the Ministry's primary healthcare centers and NGOs in the targeted area in order to inform the community of an upcoming seminar. Through open dialogue, demonstrations of self-examination on synthetic breasts, and visuals, the talks aim to impress upon rural Lebanese women the need for constant checks, clinical breast exams, and regular mammographies. "We first want to encourage the women to openly discuss breast cancer and remove the fear and stigma that surrounds it," Doumit says.
Conducting these awareness campaigns in remote villages of Lebanon "where some women may not even have heard of a mammography, and others are too scared to have one," is vitally important, says Fatima Beydoun, an oncology nurse who is helping with the project and who was present at a recent session held in Ablah, near Zahle in the Beqaa.
A couple of women at the Ablah session who had been carrying out regular self-examinations by copying a TV demonstration discovered that they were not doing them properly. "I wasn't pressing on the breast as I should've been," one said, "I was too scared to do so, but now I know that there's really nothing to be scared of."
Beydoun, who has 15 years' experience in her field, believes nurses play a vital role in educating women to care for their health, and in stressing the need for regular screenings, blood tests, and routine check-ups.
Nurses are best qualified to raise awareness, confirms Doumit, as they are the ones who interact the most with customers and patients across all healthcare institutions. "Nurses with a bachelor's degree are trained within their educational program to integrate patient/ family teaching into their plan of care."
Doumit notes that the response to the seminars has been very rewarding, with attendees vowing to assess themselves regularly and inform their friends about the C2 program, which aims to provide the women with constant and accessible support. "The next step is to start training the Ministry's personnel so that the villagers can come directly to the trainer with questions and concerns," says Yazbeck, who is working on establishing an endowment fund for ongoing initiatives.
You can find out more and support the C2 campaign here