Enduring commitment
Lebanon's top banker Dr. Raymond Audi makes a major donation towards scholarships for banking, finance and accounting students.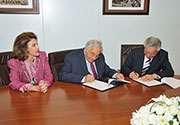 Eighty percent of the donation will go to the establishment of the Georges and Raymond Endowment Scholarship Fund.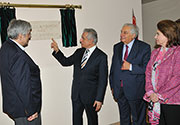 Unveiling the commemorative plaque at the School of Business.
Click on any photo above for larger version.
Lebanon's premier banker Dr. Raymond Audi and his spouse May Ogden-Smith were at LAU this week to formally announce a $1 million donation to the university.
Bank Audi-Audi Saradar Group made a generous $800,000 gift to establish the Georges and Raymond Audi Endowment Scholarship Fund, supporting the tuition fees of needy and deserving students majoring in banking, finance and accounting. They also donated $200,000 to name a physical entity at the School of Business after Raymond and his late brother Georges Audi. 
Raymond Audi established Bank Audi SAL - Audi Saradar Group in 1962 along with his father, brothers Georges and John, and a Kuwaiti business partner. Considered Lebanon's top bank, Bank Audi has assets worth US $29 billion and footings totaling US $40 billion. Raymond Audi, who has acted as the bank's chairperson since 1998, also established the Audi Foundation, which is dedicated to the promotion and preservation of traditional craftsmanship in Lebanon.
In recognition of the donation, LAU President Dr. Joseph G. Jabbra unveiled a commemorative marble plaque at the Finance and Accounting Department in the School of Business, designating the area the "Georges and Raymond Audi Executive Business Hall". Wadih Audi, son of the late Georges Audi, Samir Hanna, CEO of Bank Audi-Audi Saradar Group, and Freddie Baz, advisor to Raymond Audi, were also in attendance.
Speaking at the ceremony, Jabbra paid tribute to the Audi family's unwavering commitment to philanthropy and development. "We at LAU are absolutely delighted to have the opportunity to honor a person and the memory of his brother, who together have done so much for Lebanon and beyond, and who have shown such gracious commitment to the university," he said.
LAU students and the wider Lebanese community should remain optimistic, even as the region is engulfed by extraordinary political and economic tumult, said Raymond Audi. "I would advise you never to look at the glass as half empty or empty. The glass is half full. There are cycles in life and we have to accept that we are currently living through some hard times, but we will face them and we will succeed."
Audi added he was very glad to support LAU. "We are going to do something very exciting for the future of Lebanon."
Raymond Audi has received numerous international awards, including honors from the Pope and the governments of Lebanon, France, the United Kingdom, Spain, Russia and Malta. He sits on LAU's Board of International Advisors and has been instrumental in helping the university expand its Beirut campus. Audi, who served in the Lebanese government as minister of the Displaced, was awarded an Honorary Doctorate in Humane Letters by LAU in 2007.