Engaging with the community
LAU nursing students get hands-on experience beyond the hospital.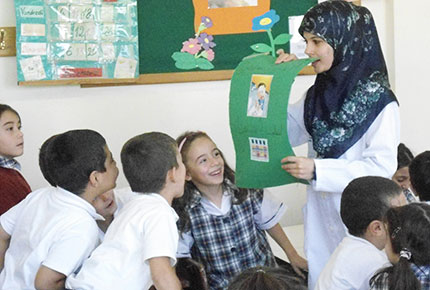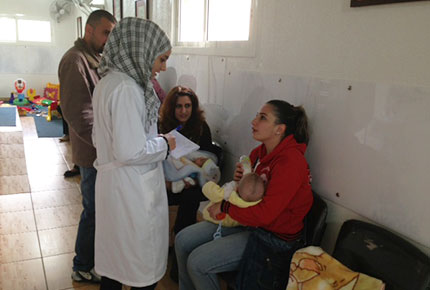 This spring LAU's School of Nursing released their first graduates into the world armed with a Bachelor of Science in Nursing. Though still in its infancy, by training students to use their skills to work within a variety of contexts and with diverse patient groups, the degree program is already establishing a real connection with the community.
Senior year nursing students have just completed community-centered courses, which focus on the knowledge and skills that foster health behavior changes in individuals, families, communities and populations. Helping to screen, immunize, educate and teach prevention of diseases across various outpatient clinics and schools in Lebanon, they engaged with the community gaining real hands-on experience.
Students worked with local schools, such as Rosary School in Jbeil, to learn the role of a school nurse and educate grade 1- 6 students on a variety of health-related topics from how to correctly wash their hands to dental care, first aid measures and physical changes during puberty.
Another clinical opportunity took students to Karagheusian Center in Bourj Hammoud, where they worked with underserved populations, particularly in light of the recent crisis, such as Syrian refugees. Here in an outpatient center, they practiced the role of the community nurse helping with everything from immunizations to teaching mothers about nutrition on a budget.
"There were so many people and so much to do. It was my favorite part of the course," says Nada Kazoun, a final year nursing student, who worked at the center. "I got a lot of experience and learned how to interact with people from different backgrounds."
Another field of work with a rather divergent population is that of the Military Outpatient Hospital in Badaro, a similar experience but this time with Lebanese patients, mainly the wives of servicemen from deprived areas.
"The most important thing when working within the community is teaching awareness and prevention, to stop diseases from happening and thus break the cycle," says Dr. Mira Abi Saad Youssef, who leads the course. "Treatment after discharge is almost more important than in the hospital."
Outpatient clinics that offer healthcare services for free or at a cut cost to communities on the fringe, often have limited budgets and resources, meaning students have to learn to be adaptive.
"We had to economize with everything as there aren't much funds," Kazoun says. Building an awareness of the patients' backgrounds is also essential, so post-treatment health care advice is reflective of their situations. "When offering medical advice you also have to take into consideration the fact that the patients might not have money or may not be able to afford meat and fish," Kazoun continues.
"Students come away from the community courses with a much better appreciation of aftercare and what a patient goes home to," says Nancy Hoffart, founding dean and professor of LAU's Alice Ramez Chagoury School of Nursing. "They realize that when you're in the community you don't always have the same resources you would normally have in a hospital." For her, it is important that the students build an understanding of the continuity of care that patients need. "It gives them the skills to motivate people to be concerned about their own health and not just show up at the doctors office and say 'take care of me,'" she adds.