Green inspirations
The School of Engineering holds its annual Engineering Projects Day.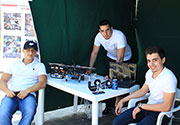 In their projects, students mainly made use of green and sustainable energy, including solar energy and compressed air.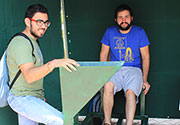 A pedal-powered can crusher reduces the can's volume by 87%.
Click on any photo for larger version.
The School of Engineering held its annual Engineering Projects Day (EPD) on May 13 on the Byblos campus. Now in its sixth edition, the exposition drew undergraduate students from the Civil, Electrical and Computer, and Industrial and Mechanical Engineering Departments, and showcased a variety of innovatively eco-friendly projects, ranging from foldable electric bikes and smart wheelchairs to pedal-powered cars and amphibious vehicles.
Though this year's EPD lacked a unifying theme, there was an unspoken consensus among students and faculty members alike in the favor of the use of green or sustainable energy, including solar energy and compressed air.
"The annual Engineering Projects Day gives our students the opportunity to showcase the projects they've been working on all year long," says Dr. Barbar Akle, assistant professor in the Department of Industrial and Mechanical Engineering and the driving force behind EPD. "It also encourages teamwork among people from different departments and fosters the development of soft skills, which students cannot acquire in the classroom alone."
This year's EPD also featured an "LAU Race," whereby miniature student-built vehicles raced near the Fountain Area, much to the campus' delight.
Among the exhibited projects was a pedal-powered can crusher that simulates the movement of pistons in a car, thus reducing the cans' volume by 87%. Fashioned from spare bicycle parts and a metal masher that squashes the cans to near-flatness, the pedal-powered can crusher does not look like much at first glance, but its effectiveness is unquestionable.
"Mechanical can crushers currently available on the market can only reduce the volume of cans by 70%," says second-year mechanical engineering student Michelle Mansour, who spearheaded the project. "Not only were we able to further reduce the cans' volume by over 15%, but we did it in such a way as to produce zero toxic waste."
Though not as visually haunting as the pedal-powered can crusher, third-year mechanical engineering student Elio Kallassi's smart green house is just as noteworthy.
"The aim of this project is twofold," explains Kallassi. "To promote environmentally friendly energy, and to reduce electricity and gas bills."
Equipped with solar panels, resistance temperature detectors (RTD), and light dependent resistors (LDR), Kallasi's green house automatically turns the fans on when temperatures reach a certain threshold, and pulls the blinds up or down depending on the intensity of sunlight. It can also detect human motion and switch the lights on or off accordingly.
"The best advice I can give our students is to be their own inspiration," says Dr. Ramy Harik, assistant professor in the Department of Industrial and Mechanical Engineering. "Don't try to mimic other people's success. Find your own within yourself."