Enhancing research on migration and the Lebanese diaspora
LAU's Institute for Migration Studies aims to raise awareness on the importance of scientific work in the field through fieldwork and lectures.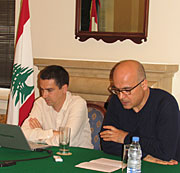 Researcher Mohamed Kamel Doraï presents a comparative study on Iraqi and Palestinian refugees in Syria and Lebanon.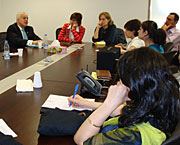 Guest speaker Walid Maalouf talks about the Lebanese diaspora's influence on the global political economy.

Guest speakers from various ethnic, academic and professional backgrounds have been invited at LAU to share their experience, research and scholarly understanding on migration to and from Lebanon and the Arab world, and the local, regional and international role of the Lebanese diaspora.

The ongoing series of lectures, which was launched in April, is part of a larger initiative undertaken by LAU's Institute for Migration Studies to raise awareness on the importance of these issues in Lebanon.

"I don't think there is a culture in Lebanon yet that really understands the significance of scientific work in migration, and fields like sociology and anthropology are not as developed as they should be," said Dr. Paul Tabar, IMS founder and director, and associate professor in sociology at LAU.

To bridge the gap, IMS is conducting several research projects as well as domestic and international fieldwork, besides the lectures.

In September 2008, IMS was awarded a three-year $342,000 grant by the International Development Research Centre to conduct research on the Lebanese diaspora's impact on Lebanese politics and migrant political activity in Australia, Canada and the U.S.

Interviews with ministers, parliament members, representatives of political parties, and immigrants are currently being conducted across Lebanon to gain a more accurate and comprehensive understanding of the effects of immigration in the country.

"This project has been extremely unique in Lebanon," said Rima Rassi, IMS project manager. "We will be able not only to shed light on what Lebanon is doing toward immigrants, but we also want to see the relationships of immigrants abroad after the fieldwork is conducted," added Rassi.

IMS also hopes to use the collected data to implement policy changes for migrants returning to Lebanon.

As part of the lecture series, researcher Mohamed Kamel Doraï presented, May 11, a comparative study of Iraqi and Palestinian refugees living in camps in Syria and Lebanon and their transition to urbanization.

Doraï, researcher for the French National Centre for Scientific Research (CNRS) and Institut Français du Proche-Orient, explained the causes of these transitions and how Lebanon and Syria are affected.

Guest speaker Walid Maalouf, who has worked as a businessman and diplomat in Washington D.C. for more than 20 years, led the first lecture of the series, April 22.

Citing his experiences, Maalouf discussed the impact of the diaspora on the economic and political arenas in the United States and Lebanon.

On June 15, the institute is planning to hold the next lecture, entitled "Migration, Sovereignty and Nation-state in the Region: Toward an Extraterritorial Nation-State." It will be led by Dr. Sari Hanafi, associate professor of sociology at AUB and editor of Idafat: The Arab Journal of Sociology.