Ensuring Lebanon's safety against landslides
LAU engineering professor Grace Abou-Jaoude maps co-seismic landslide hazards, increasing scientific knowledge about areas prone to natural disasters.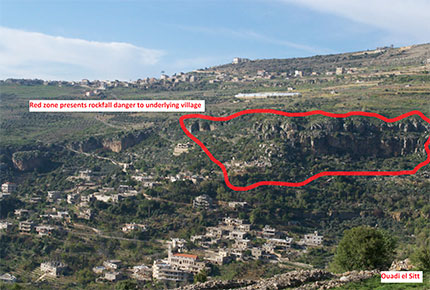 Lebanon's rugged topography and location in a zone of relatively high seismic activity makes the country vulnerable to earthquakes and landslides. Identifying vulnerable terrain is therefore a priority for anyone concerned with public safety.
Research conducted by Grace Abou-Jaoude Estephan, assistant professor in the Department of Civil Engineering, has resulted in the first comprehensive mapping of co-seismic landslide hazards in Lebanon. Abou-Jaoude relied on topography, geology, and the concept of maximum seismic acceleration to develop maps delineating the areas prone to sliding during a major earthquake event on a national scale.
The maps — which can be downloaded for free and used as a guideline by public and private institutions — were made possible thanks to a $100,000 grant that Abou-Jaoude received in 2012 under the umbrella of the Partnerships for Enhanced Engagement in Research (PEER) Program, developed jointly by the National Science Foundation and USAID. Abou-Jaoude's research team collaborated with Chadi Abdallah, a senior researcher at the remote sensing unit at the National Council for Scientific Research (CNRS) who contributed with information on landslide occurrences across Lebanon.
In addition to developing and testing new methods of assessing the risk of earthquake-induced landslides, the project raised awareness of the urgent need to address such hazards in Lebanon and the associated consequences in terms of human loss and infrastructure damage. The results were presented to government officials, academic institutions and engineering professionals at a workshop held in March 2015.
Ata Richard Elias, a geophysicist and assistant professor at the Geology department of AUB who took part in the workshop, voiced his appreciation of Abou-Jaoude's research. "No one before has attempted to approach this hazard with such a detailed scientific method that could be applied at the scale of Lebanon and in a complementary way with the geology of the country," he said. "The outcomes of this research will greatly improve the understanding of the evolution of the geology of Lebanon and its landscapes, as well as mitigate the landslide hazard and risk in the future. This will help fill a major gap we were facing so far."
In August 2015, Abou-Jaoude and her team were granted a new PEER award ($76,000) to take the research to the risk assessment level. The aim is to develop comprehensive landslide risk index maps that identify areas in Lebanon with high risks of human loss and infrastructure damage associated with rainfall and earthquake induced landslide failures.
Several undergraduate LAU Civil Engineering students participated in the team effort. For example, recent graduate Angela Saade assisted in the final tasks of the project and actively participated in the dissemination workshop. "In the classroom the data is a given, while when you conduct research every information has to be questioned and verified," says Saade, who graduated last fall. "This taught me to be persistent and to ask the right questions. I also gained technical skills for writing effective research papers."
According to Abou-Jaoude, in addition to the obvious benefits for Lebanon, the risk-based methods adopted and developed in this work will be applicable globally to the mapping of geologic hazards worldwide. "We aim to help in building a resilient society by mitigating the impact of natural disasters," she says. "Proper planning will prevent them from wiping out decades of development initiatives and prevent many households from plunging back into poverty."