Ensuring proper nutrition and diets in Lebanon
Dr. Sawsan Wazzan and the Nutrition and Diet Center join forces with LAU in both research and internships.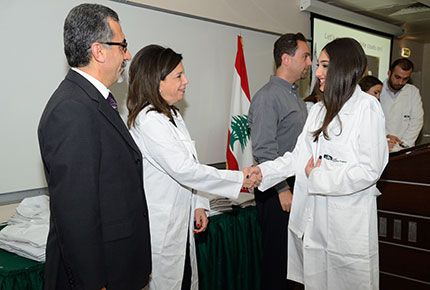 "You cannot succeed in your business if you do not have passion for it, which requires being involved in every detail of your work," says Dr. Sawsan Wazzan when asked how she managed to create and sustain her successful therapeutic nutrition catering business.
In 1990, Wazzan and her husband established the Nutrition and Diet Center (NDC), the first business in Lebanon to provide its clients with special diet related services. Among other services, NDC offers tailor-made diet programs based on clients' medical needs, she explains.
NDC also has a large-scale kitchen dedicated to cooking healthy and low-calorie foods for people who suffer from specific diseases, and delivers meals to clients in their homes. "The home delivery part of our work contributed to a great extent to our success because the concept was new to Lebanon," says Wazzan.
Recently, NDC signed a research agreement with the Natural Sciences department at LAU, whereby Nutrition students focus their research on a nutritionally complete modified detox diet created by NDC.
Wazzan's achievements have, by any measure, been impressive. Success in Lebanon prompted her to expand her business to Saudi Arabia in 1996, where it serves over 5000 clients daily, with further branches opened in Kuwait (2002) and Qatar (2004). Her reputation has gained her access to some of the very well-known reality TV programs in Lebanon, where she has campaigned to raise awareness on the importance of healthy diet among youth.
But the entrepreneur's path to success has not been an easy one.
"We faced some financial issues at the beginning because we had to start the business from scratch," says Wazzan. So, "we started with a loan and still resort to financial support from banks to be able to upgrade our operations regularly by increasing our range of products and expanding our overall scope of work."
She further cites Lebanon's economic slowdown as an obstacle affecting every entrepreneurial activity in the country. "The deteriorating situation of the Lebanese economy over the past years has had a bad impact on our business," Wazzan laments. Nevertheless, "we were always determined to carry on with our duties," she adds.
But Wazzan also places some level of responsibility for failure on entrepreneurs themselves. "I have seen many entrepreneurs failing to sustain their businesses one year after their inception due to the lack of proper feasibility studies," she says, and advises LAU graduates who plan on engaging in entrepreneurship to hire a professional consulting group to study their projects and ensure they are on the right track.
In terms of concrete advice for LAU's Nutrition students, Wazzan believes they do not necessarily have to take the risk of running their own private clinics, because the field provides them with plenty of other good employment alternatives. "Nutrition graduates can offer their dietetic services in restaurants, hospitals, gyms in addition to working as teachers and researchers," she says. NDC joined forces with the LAU dietetic internship to provide students with more extensive professional experience, and "facilitate their access to other jobs in the future."