Ethics and knowledge, weapons of LAU's graduates
Adnan Kassar School of Business' class of 2016 vows to give back to the community and to fight the ills of its society.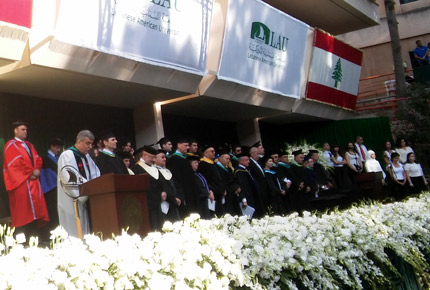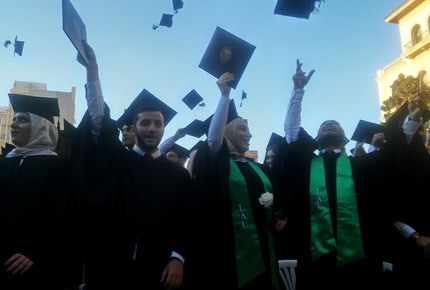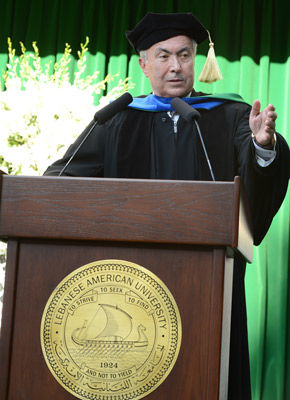 "Alma mater, hail to thee. In the strength of our new desires, we pledge to thee all our youth," read the verses of LAU's Alma Mater.
But on June 11, the university was the one honouring its students graduating from the Adnan Kassar School of Business (AKSOB). As parents and guests cheered, recurring references were made honouring the alumni-to-be for their achievements, particularly against the backdrop of the challenges currently faced by Lebanon and the MENA region which the class of 2016 is ready to take on.
"We are the powerful agents who will fight evil in all its kinds: corruption, segregation, violence and the ailments our society is sickened with," said Valedictorian Montasser Akram al Hassanieh addressing the graduating cohort. "Our role as business graduates has just started, guided by ethics and knowledge as our only weapon," he added.
LAU President Joseph G. Jabbra expressed his pride. "We gather here, tonight, our hearts filled with joy at what the LAU family and especially our graduating class have achieved this past academic year," he enthused. "Our success is a continuation of our beautifully unfolding dream in the history of LAU, which has become an academic powerhouse, taking its right place in the constellation of leading institutions of higher education in Lebanon, the MENA Region, and beyond."
Indeed, LAU's school of business has recently obtained its accreditation from the U.S. Association to Advance Collegiate Schools of Business (AACSB), thus joining a prestigious club of only 5 percent of accredited business schools in the world.
Also proud of the youth of his country was Fouad Mustapha Makhzoumi―renowned Lebanese businessman and Chairman of Future Group Holdings―who received an Honorary Degree in Humane Letters from Jabbra and Provost George K. Najjar. In his commencement address, Makhzoumi prompted the students to search beyond their immediate home country for their professional development if necessary, but to bring back their know-how to Lebanon. "I am one of many Lebanese entrepreneurs who have, out of their love and care for their country and fellow citizens, harnessed their resources to serve their fellow citizens. I call on you to carry the same objective when carving your professional path."
A message well received by Beatrice Rizk, a student graduating with distinction in business. "LAU has taught us such values as the importance of giving back and helping each other … I am also happy to have attended a university which offered me the freedom to express myself." Fellow Nahi Ghandour, also a business graduate, nodded. "There is respect for each one of us, and a great dynamic and positive interaction with professors. At LAU we felt valued."