Etiquette: "The fuel that powers relationships"
Alumni learn tips for building successful personal and professional relationships during an LAU Beirut lecture.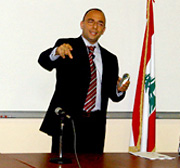 Hassan Chaker, instructor of hospitality management at LAU, giving a lecture on business etiquette.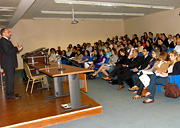 The event was organized by LAU's Alumni Relations Office.
In a fast-paced world that confronts us with heavy workloads and stress-inducing deadlines, we often lose track of other important aspects of our lives. Among them, says Hassan Chaker, instructor of hospitality management at LAU, are the principles of etiquette that power relationships.
Chaker is also the founder and managing director of Middle East Consultancy Agency (MCA) People Solutions, which helps equip professionals with leadership skills.
He lectured to a packed auditorium of alumni April 29 at LAU Beirut, explaining that his tips can be applied in both professional and personal settings.
Chaker said the rules of etiquette are staples of all religions that have adopted some form of the golden rule that tells us to treat others how we would like to be treated.
"I think this is obsolete," he said. "With globalization, it's changed. I can't treat a Japanese the way I treat a Lebanese or Syrian."
Rather, he said, people should follow the platinum rule: treat others like they want to be treated. "How do you know how they want to be treated?" he asked the audience. "Learn their culture."
Chaker listed a number of points that help people achieve professionalism in the workplace. The first and most important among them is punctuality, he said. Others include speaking and writing clearly, apologizing for errors or misunderstandings, accepting constructive criticism and feedback, presenting yourself pleasantly with good hygiene, choosing attractive (but not distracting) clothes, and avoiding even the smallest lies at all costs.
"If you lie once, you lose your credibility," he said.
First impressions, he continued, are lasting impressions. It's a point to keep in mind for your appearance, punctuality and attitude when meeting new people, but it shouldn't be used to form judgments.
To leave a positive impression, he said, stand with a confident posture, make eye contact, keep body movement to a minimum, wear clean clothes and polish your shoes. Perhaps, above all, have pleasant expression.
"Smiles make miracles," he said. "People tend to trust a smiling face."
Chaker introduced what he called the rule of 13 for personal props and accessories. People should not wear more than 13 items, he said, including two earrings, a watch, bracelet, belt, buckle, shoes, adornments, pins, scarves, rings, purse, briefcase and other things.
Try to meet someone new every day, Chaker explained, because every person you meet offers the opportunity to learn from him or her.
When you go out with people, he said, don't spend all your time on the phone, talking or sending messages to others.
Finally, he said, "be yourself and be proud of it. Remember, our goal is to build relationships."
The event was the fourth installment of the "Keep Learning" Alumni Lecture Program organized by the LAU Alumni Relations Office.