Lebanon's expatriates keep its fake economy buoyant
Assistant Professor of Management Dr. Philippe Zgheib tells MarCom about the impact of Lebanese entrepreneurs living abraod on the national economy.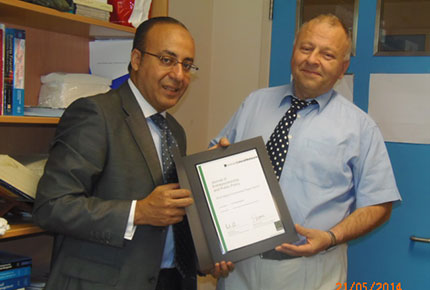 Ever wonder when Lebanon's seemingly unsustainable economy will collapse?
"It won't," says LAU's Dr. Philippe Zgheib, "not only is it a small and detached economy, but it enjoys the protection afforded by Lebanese expatriates."
Zgheib, assistant professor of management at LAU, was recently honored by The Journal of Entrepreneurship and Public Policy for a research paper that examines the relationship between expatriate Lebanese entrepreneurs and public policy.
It is the fourth in an ongoing series of papers examining Lebanese expatriate entrepreneurs to be published by Zgheib and other academics, including Zafar Ahmed professor at the Hospitality and Marketing Department.
"This is the second paper in the series to receive an award, and we are delighted to have our work recognized. When Zafar came to Lebanon as a visiting professor six years ago, he had conducted similar research in Africa and India. We then started working together, looking into the history and impact of Lebanese expats," says Zgheib. We asked him to talk us through the motivations and results of their research.
Why is it important to examine and understand Lebanese entrepreneurs abroad?
Dr. Zgheib: Lebanon is an expatriate driven country. There are more Lebanese people living abroad as there are in the country, resulting in the highest ratio in the world. Lebanese expats support their home country, some through investment, some by supplementing their families. This support is a major component of the Lebanese economy, making it highly unique. With most of the country's income generated aboard, its economy does not fit any macro-economic model. In fact, we are living in a bubble. Lebanon has a fake economy. The country's macro-economy is artificial by the standards of any of the over-riding business models, but we have our own model and over the past century it has proven viable. When other economies failed, we continued to prosper.
Who did you interview for your study?
Dr. Zgheib: We used the 400 respondents of our extensive worldwide survey as the basis of a paper that presents a historical perspective of Lebanese expatriate entrepreneurs. We made sure to send the survey to a wide representative sample, to expats in Europe, Africa, the Gulf and the Americas. One interviewee, whom I visited, had left Lebanon during the First World War and set up businesses in Nevada. Now a whole town, Chahine, and most of its businesses are named after him. This latest paper examines only the 264 respondents who are first-generation expatriates.
Are Lebanese expats particularly entrepreneurial?
Dr. Zgheib: Entrepreneurship among Lebanese people is one of the highest in the world. We found them to be pioneers, adventurers and risk-takers. The first generation showed themselves to be the most entrepreneurial by far, which is why we focused solely on them for the latest paper. While we didn't study the causes for that, it may be related to increased integration over time.
Are Lebanese expatriates more entrepreneurial and successful than those in Lebanon?
Dr. Zgheib: I am keen to conduct a comparison between the two. I anticipate that we will find both to display the same characteristics. Lebanon is turning out to be a micro-lab for entrepreneurial investment. It is a great place to start a business, but in order for a business to thrive and move beyond start-up level, it needs to expand outside the country.
What role does public policy play in the entrepreneurialism?
Dr. Zgheib: Public policy toward entrepreneurship is almost non-existent in Lebanon. Most entrepreneurs here succeed despite the public sector. It is a hindrance, so the Lebanese learn to adapt to the deficiencies. Outside Lebanon we saw that public policy supports entrepreneurship, which encourages expansion. It is therefore easy for a business that has already been tested and succeeded in Lebanon to be expanded in other countries that have the infrastructure to support private entrepreneurs.
Zgheib, a former expatriate entrepreneur himself with a background in engineering and passion for water management, lived half his life outside Lebanon. He expects to continue to build on the research for some time to come. The next paper in the series compares female entrepreneurs in Lebanon with their expat counterparts.