Experts examine current trends in simulation and modeling in the region
For the first time since its establishment 10 years ago, the annual Middle East Simulation Multiconference comes to Lebanon and takes place at LAU.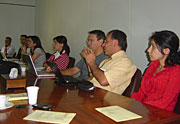 Participants of the Middle East Simulation Multiconference 2009 during a paper presentation.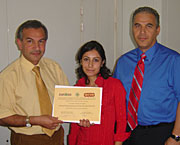 Dr. Marwan Al-Akaidi (left), EUROSIS general conference and program chair, and Dr. Haidar Harmanani (right), MESM regional chair and chairperson of LAU's Computer Science and Mathematics Department, present Nadine Zbib (France) with an award for the best paper.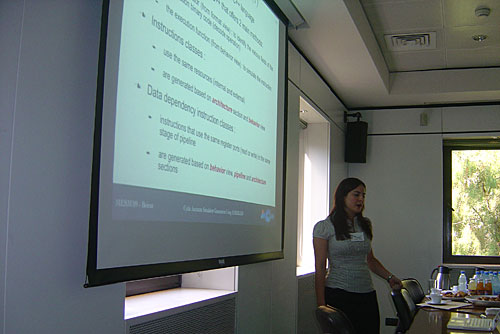 Rola Kassem (France) presents a paper on "Cycle Accurate Simulator Generation."

Click on any photo above to view all three images
Twenty professors, researchers and professionals from different regions of Europe flocked to LAU from September 27–29 for the Middle East Simulation Multiconference 2009 to examine current trends in simulation research in the Arab world.
MESM, a regional project established and sponsored by the European Multidisciplinary Society for Modeling and Simulation Technology, has been running annually since 1999. This year marked the first time EUROSIS held the conference in Lebanon — with the support of De Montfort University in Leicester and IEEE UKRI–SPC — and chose LAU to host it.
The conference was divided into five sessions with distinct themes: simulation methodology and tools, simulation and artificial intelligence, communication network simulation, complex systems simulation, and industrial simulation.
Over the first two days of the conference in LAU Beirut, 19 papers were presented on topics related to the session themes including simulation models for cyber attacks, an alternative home absorption system, and a new look at digital handwriting recognition, to name a few. The third day was spent in Byblos introducing the participants to the campus.
"We in EUROSIS believe strongly that modeling and simulation make a powerful combination to improve the systems and organizations of the 21st century," says Dr. Marwan Al-Akaidi, EUROSIS general conference and program chair, and head of the School of Engineering and Technology at De Montfort University.
MESM is just one of 12 conference kinds under the umbrella of EUROSIS. Aside from the Middle East, EUROSIS runs and sponsors regionally geared annual conferences in North America, Asia and Europe, as well as several other thematically specialized conferences that are held throughout the world.
Typically, the only differences in simulation trends developing in separate regions are those that take into account the unique situations and needs of specific areas, says Dr. Haidar Harmanani, MESM regional chair, and chairperson of LAU's Computer Science and Mathematics Department. "Based on the region, simulation requires certain specific social behaviors or expectations that could affect it," he adds.
For example, Harmanani explains, industrial simulation focusing on family businesses, which make up the vast majority of businesses in Lebanon, is more suitable and beneficial to the country than it perhaps would be in regions where family businesses are less common.
Although the participants all came from Europe, aside from just four, they were all of Arab or Iranian descent.
At the end of the conference, Harmanani and Al-Akaidi presented an award for the best paper to Nadine Zbib, who represented a team of three from the University of Lille–Nord de France, for their paper on "Simulation of Dynamic Allocation and Routing in FMS Using Potential Field."
Through such events that enhance LAU's exposure, "we are opening avenues for our students," Harmanani says, adding that after the conference, some participants contacted him to express interest in collaborating on future projects and even sponsoring LAU students for Ph.D.'s.