Faculty and students collaborate on redesign proposals for LAU's Early Childhood Center
Over twenty education, and architecture and design students team up in an innovative inter-school course to conceptualize a redesign of the Early Childhood Center's outdoor space.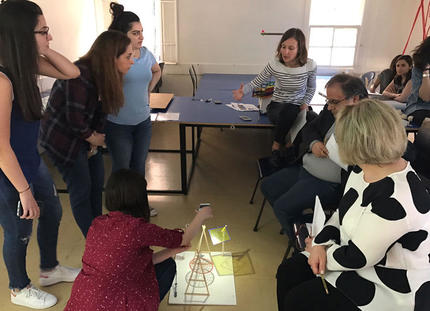 Students from two very different programs came together this semester to present proposals for a redesign of the outdoor area of the Early Childhood Center (ECC), a staple of LAU's Beirut campus since the 1950s.
Students of education at the School of Arts and Sciences have been studying and working with their peers at the School of Architecture and Design over the spring semester in a first-of-its-kind course at LAU. "We wanted to redesign the playground so I approached Dr. Chamoun who was very amenable to the idea of collaborating," says Chair of the Department of Education Mona Nabhani of her counterpart at the Department of Architecture and Interior Design Rachid Chamoun.
The result was a new course that brought students from two very different disciplines together to analyze the behavior of children, survey the existing site, study relevant theories about space and cognitive development, and prepare, in groups, models and recommendations for new concepts and designs that could be implemented in the space.
"I loved being engaged in something that was real and practical and in support of our university," said Julia Aridi, a senior in architecture. Third-year student of architecture Samer Aouad also enjoyed the opportunity to discover a different space within the Beirut campus. "Because it was on campus, we had more time than we usually do for site visits. We spent three months going to and observing the nursery," said Aouad, adding that as the end users were children, more care had to be given to design technicalities related to safety.
"Many of us students of education envision opening our own nursery, so it was fascinating to learn so much about space and design, and aspects we wouldn't have otherwise considered," said education student Hala Wahab.
The final proposals presented by the students, in teams, were diverse. One group conceptualized a play area with swings, a see-saw and other elements that created colorful shadows on the ground, while another suggested colorful palettes incorporating loose elements and water mazes be hung and placed across the walls and corners of the outside area.
Other proposals were governed by the natural surroundings. One adopted a minimalistic design that made use of a two-level raised platform to encourage children to role-play. Another two directly engaged with the large multi-rooted Ficus that stands tall in the space opposite the nursery.
"The final proposals were an outcome of the research process, which itself was at the heart of the course objective," explained Assistant Professor of Architecture Roula El-Khoury who gave the course together with Assistant Professor of Education Garene Kaloustian. "This course adopted a truly cross-disciplinary approach, with a lot of very hands-on work," said Kaloustian.
"The students spent a lot of time at the ECC, made a lot of observations and conducted conceptual experiments. They were open to trying out new things and focused on the ECC's true purpose―student involvement and research," said Farid Jreidini, assistant dean of the School of Architecture and Design, who joined Nabhani, El-Khoury and Kaloustian on the jury panel, and was impressed by the student output. "I strongly commend this initiative," he enthused.
While experimental and still in the development stage, the course and its results were also praised by the students for their benefits to both student learning and the university. "I think it would be great to have more design courses like this with other departments," said senior student of interior design Jamil Halwani. "Each one could tackle a different space on campus."