Faculty and students unite to bolster reading and recital
LAU's young poets captivate a full house with their creative talent at the Poetry Slam on Beirut campus.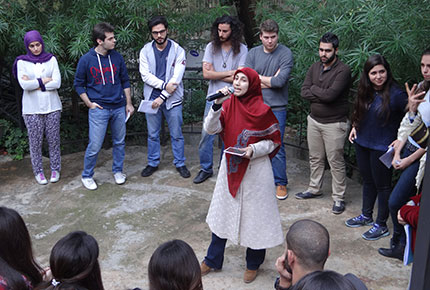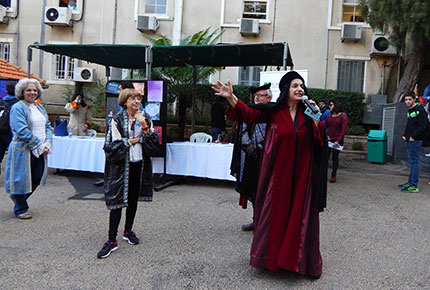 The outdoor auditorium by the Beirut campus upper gate overflowed last Wednesday with students who had gathered to cheer for contestants of the Poetry Slam, a competition organized by English instructor Omar Baz Radwan as part of a wider initiative entitled Literature at LAU.
"It was great and I was really pleased with the attendance," said junior student Yehia Cheaito, who has been writing poetry since he was 12 years old. "I enjoyed all the poems, both in Arabic and English. It was a wonderful celebration full of clapping and cheering."
Among those who delivered their poetry was English major Assem Bazzi. "I've been reciting in public since I was 18, but this will be my first time at LAU," he said. "The courses I take here are very interesting, there's never a dull moment," added Bazzi, who aims to pursue his postgraduate studies in literature abroad after graduating from LAU next year.
Fellow English major Baudouin Chaar also performed on the day. "This is my first time reciting my own work in public, as I only recently started writing poetry," said Chaar, who is taking a minor in Arabic and still deciding whether to do his literature master's degree in English, Arabic or French.
Though an avid writer, Cheaito was not among the eight participants in the Poetry Slam, having lately taken on the responsibility of promoting the resurrected Page Turner student book club as its elected president. "I was very pleased to have the opportunity to inform students of the club and to have so many sign up on the day. We're looking forward to expanding our activities and reading an array of literary works."
The club will definitely include poetry, said Cheaito, who last year won a writing competition organized by the Writing Center. "LAU puts a lot of energy into promoting reading and writing, and literature in general. That's very important as interest in literature is still limited in Lebanon," added Cheaito, an English literature major.
The undergraduate degree in English, run by the newly established English Department, was redesigned last year. Students can now follow one of three distinct tracks – language, literature and creative writing – while taking courses in each. "This has changed people's perception of English. Students used to think all English majors were headed for careers in academia, but this shift in the program has changed that view. LAU's English department is of a really high caliber," boasted Cheaito.
Joining him in the activities of the Page Turner club is Biology and pre-med student Rita Khattar. "I took an English literature course as part of my curriculum requirements and discovered how it's related to life, emotions, gender and psychology. Reading is now my new hobby and I find that it helps release stress," she enthused.