Faculty awards celebrate excellence in teaching and research
LAU faculty members receive excellence awards for innovative teaching methods and contribution to society in their respective fields.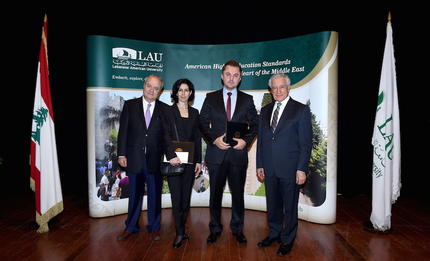 LAU faculty and administrators came together on October 7 at the Byblos campus for the first faculty meeting of the academic year. The gathering culminated in the presentation by LAU President Joseph G. Jabbra of two major faculty awards. Introduced by LAU Provost George K. Najjar, the prizes represent, in his words, "a celebration of our commitment to excellence in both teaching and research."
The Teaching Excellence Award went to Associate Professor of English and Applied Linguistics Rula Diab who, in an emotional and moving acceptance speech, dedicated it to her recently deceased father, former AUB Dean of Arts and Sciences Lutfi N. Diab.
According to Mona Majdalani, LAU's assistant provost for academic affairs, the award "recognizes a faculty member who has demonstrated excellence in teaching innovation," based on a range of criteria, from "novel and innovative teaching methods, new ways of engaging students in the learning process," to "major curricular restructuring and/or program development," among others.
Currently the Chair of the English department and Founding Director of LAU's Writing Center, Diab values "active learning and teaching methods that promote critical thinking and encourage students to go beyond the required course readings." In addition to employing multiple techniques that reflect different learning styles — including lectures, extensive classroom discussions, and practical hands-on activities — Diab evaluates students through such means as peer evaluation, self-evaluation, portfolio assessment and journal writing.
"I find these various assessment tools provide a much more reliable and fair general evaluation for each student rather than simply relying on exam performance," Diab notes. "Not only do they help students become engaged in the learning process but they also make them more conscious of what is involved in the learning and teaching process." Beyond pure pedagogical methods, however, Diab's success as a teacher comes from her general enthusiasm and ability to "stimulate interest in the subject matter," a winning combination with her efforts to "create a positive and supportive atmosphere in the classroom."
To receive a Research Excellence Award, faculty members "must have achieved an exceptional contribution in their discipline and must have succeeded in communicating the results of the work to a wide audience," says Majdalani. This year, Guy Assaker, associate professor of Hospitality and Marketing shared the award with Azzam Mourad, associate professor of computer science. Assaker was unable to attend the ceremony but was recognized by Najjar.
Mourad has conducted groundbreaking research along several different yet fundamentally related tracks. "My research is always directed toward solving cutting-edge and real-life problems in the latest emerging fields and technologies such as security, mobile computing, cloud computing and social networks," he explained. In the area of security — his main research field since the time of his Ph.D. — he has most recently led a research team in addressing security issues across web and cloud services, vehicular and mobile networks, as well as social networks. In addition, four years ago he began to investigate resource management, among other things, looking into mobile cloud computing using optimization solutions and vehicular traffic solutions based on VANET (Vehicular ad hoc networks) and traffic estimation models.
But it is not only the contemporary relevance of the research topic that guaranteed Mourad the award committee's highest recommendation. Over the years, he has consistently published in top-tier journals, received numerous research grants both in Lebanon and abroad, jointly built a research unit and teams involving local and international collaborators, and served as editor and chair of top journals and conferences.
Throughout, Mourad's work has reflected the mission of LAU to serve the society in which we live. "I look at research as the major part of my career," he says, "in which I am able to serve society through supervising and graduating excellent students while solving socially relevant problems," adding that "the support of the university, the School of Arts and Sciences, and the department of Computer Science and Mathematics has definitely been essential to the success of my research."