Fashion design graduate receives prestigious international award
Days after graduating, Nour Daher wins an award at renowned international fashion competition for budding designers in Milan.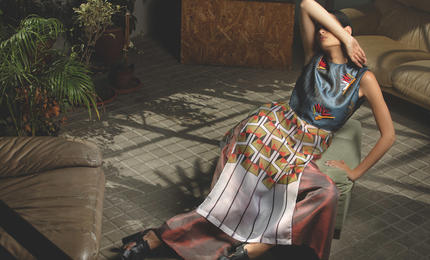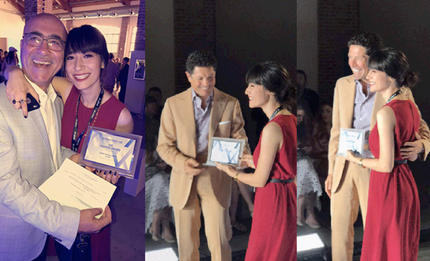 Less than two weeks after being showcased at LAU's inaugural graduating class fashion show – which celebrated the university's 16 fashion graduating students – outfits made by designer Nour Daher were being modelled on a Milan catwalk. The collection earned her the Stone Special Prize by Origin Passion and Beliefs at the 24th edition of the International Lab of Mittelmoda – Fashion Award, a renowned international fashion competition for budding designers.
"Nour's collection is full of unique textiles and very feminine," said head of the LAU fashion design program Jason Steel, adding that his former student's style was just right for the Italian show.
Daher, whose trip was funded by the university, was selected by a jury panel in Milan among a list of 23 finalists out of 4,000 applicants.
"In just three years, we have created designers with an international outlook who are finding out what it means to be young and Lebanese on a global platform," added Steel. "Nour's collection was based on her upbringing in the South of Lebanon, yet her garments are international in outlook, commercial and a shining example of what a fashion program can be."
Prestigious international awards such as the one received by Daher position LAU as a leading institution in design education, remarked Yasmine Taan, chair of the Department of Art and Design that runs the fashion design program. "Such an award recognizes the quality and high standard education the fashion team offers," Taan said.
Faculty member Niloufar Afnan, who led the course during which the final year students prepared their portfolios for submission to the Mittelmoda competition, pointed out that "Nour was one of the strongest because of her layouts and color stories. Her work is very mature."
The fledgling designer was naturally delighted with the prize. "This has been the highlight of the past four years," she said. "Representing LAU was a great honor and reward after the tough and beautiful years I spent there."
Such an accolade will no doubt boost Daher's career but, says Steel, it is important to savor the win then move forward. "It's only in retrospect that one may realize it was the hard work and continued effort that takes one places. Luckily, the designers on the program are nurtured to enjoy the moment and then knuckle down to work."
Daher's winning outfits, which feature flowers and bold colors, were part of her graduate collection, named "Relics." Stimulated by the model, photographer and war correspondent Lee Miller who "transformed her life from being in front of camera to being behind the camera," Daher sought out old family photographs, stained letters and enshrined memory boxes for inspiration. "I like to look into different cultures, where they live and how nature makes them wear those clothes," she says of her design approach.
Daher's father, an agricultural engineer, used to take her with him wherever he worked. "I was always surrounded by flowers and nature, and my mother loves plants so they were always around the house," recalls Daher, who was also galvanized by the textiles and prints of fashion designer Mary Katrantzou, with whom she enjoyed a four-month mandatory internship in London during her time at LAU.