Fighting fit and faring well at LAU Byblos Campus
A balanced regime of good nutrition and physical activity for a healthy lifestyle is the order of the day at vibrant Fit Fair.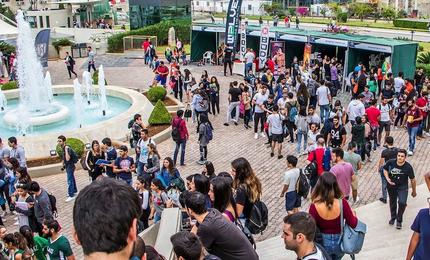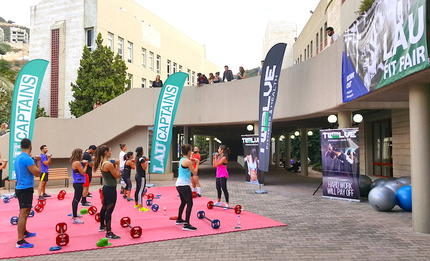 In its most recent campaign to enhance the wellbeing of its students, the Dean of Students' Office and the Athletics Department hosted the LAU Fit Fair on October 11. Various health clubs, and sports nutrition suppliers were present to help promote the importance of physical activity for a healthy lifestyle.
Students gathered enthusiastically around the central fountain of the Byblos campus to watch engaging stage performances, while others took part in the challenges and contests run by representatives of fitness centers and athletes.
The all-day event highlighted the benefits of exercise, inviting students to make the most of LAU's diverse sports activities and varsity teams.
"Even those who don't exercise regularly may get encouraged only by watching. Our aim is to spread awareness about the importance of being active and leading a healthy lifestyle," said Karen Chammas, who co-ordinated the event.
The stage performances included sessions on body combat, Kangoo Jumps, warm-up and boxing, body pump, and the Last Man Standing challenge. Diverse demonstrations created an exuberant atmosphere, capturing the attention of passing students who stopped to watch or participate in the activities.
"Hosting events like this is every important because being physically active is a healthy way for students to relieve their stress," said Lara Assadourian, an athlete, nutrition student, and a Nutrition Club founder who participated in the Kangoo Jumps session. Each of these sessions — which require special "Rebound Shoes" that have only recently been introduced to Lebanon — burns around 1,500 calories. "I did only 25 minutes of this and I feel amazing right now," commented Assadourian.
Not only did the event encourage healthy living and training, but it also focused on the importance of proper nutrition while advising against the abuse of supplements. The Nutrition Club contributed to the occasion by offering services such as calculating BMI and fat percentages, and giving students health recommendations.
Nutrition student and member of the Nutrition Club Ahmad Abou Teib explained: "We sensed that our participation today would give added value to the event since nutrition is directly related to health, and no sport would be complete without proper nutrition."
The First Responder Club was also on hand throughout the event, ready to provide first-aid assistance in case of emergency situations. The club joined the Health Office, which for its part spread awareness about first aid treatments and measured attendees' fat, sugar, muscle, and water levels.
Participating fitness centers included 37 Degrees, 12 Fitness, Step Ahead, Advanced Sports Center (ASC), ISI, Soukoun, and Xbody. "It's a great opportunity for us to be present at the LAU Fit Fair, especially since the university is all about youth and always promotes physical through its Athletics Offices," said Soukoun's representative Michelle Azar.