Film brings to life the forgotten stories of destitute families in North Lebanon
LAU instructor Khalil Zaarour's The Strangers brings into the spotlight the harsh lives of hundreds of Tripoli families.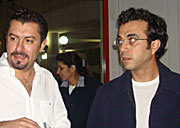 Khalil Zaarour (left) with Assistant Professor Tarek Khoury at the LAU screening.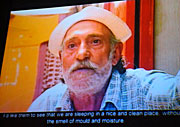 A Khan Al Askar resident interviewed in The Strangers.


Teens sitting on a grave at the Ghuraba cemetery.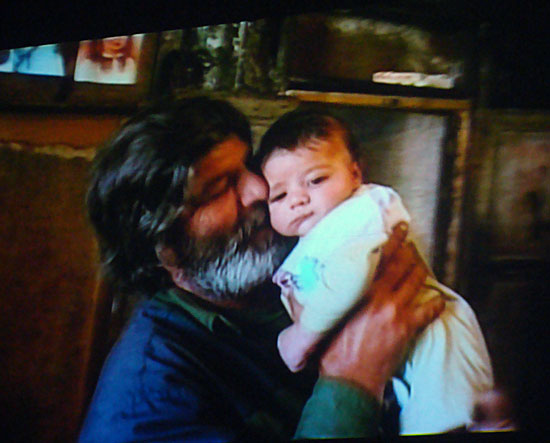 A man who is raising his family at Khan Al Askar.


"We live in this country. We have Lebanese nationality, but we are nonexistent," says a man in the documentary.

Click on any photo above to view all five images
Cemeteries, historical sites and buildings on the verge of collapse are the homes of hundreds of people in the city of Tripoli. Their austere living conditions are presented in The Strangers, a docudrama written and directed by award-winning Khalil Zaarour, an LAU communication arts graduate and part-time instructor.

Zaarour, who was hosted two weeks ago on the LBCI program Nharkom Said, screened his documentary on the Byblos campus in mid-December 2008.

The Strangers (2007) depicts the extent of deprivation in which more than 200 families live in neglected areas of Tripoli, such as Khan Al Askar (Soldiers' Caravansary), the Ghuraba (Strangers) cemetery, and Bab el Tebbaneh.

Their presence has long been forgotten. For example, Khan Al Askar welcomed families in 1952 when the Abou Ali River flooded and destroyed neighboring houses. The inn, which was once used as a garrison and a resting place for merchants, has since been the home of 60 families despite the promises made by government officials to relocate them to better areas.

Zaarour said he came up with the idea of shedding light on the issue when he heard about these abandoned people while shooting another film in Tripoli.

"These are Lebanese [who are] strangers in their home country" and try to survive in every way possible, he said during his LBCI interview. For instance, those in the Ghuraba cemetery live by burying the dead, he added.

"There is no society that accepts people living this way," Zaarour said, adding that a solution should be found quickly.

The documentary compels the audience to consider the impact of social injustice and poverty. These less fortunate people "are a danger to themselves and to others, since they are denied of their rights and hold a grudge against society," Zaarour said. According to him, "the [deprived] teenagers who see the fortunate ones studying, going out, and buying cars want the same things. So, they will [even] commit illegal acts" to obtain them.

Dr. Irma-Kaarina Ghosn, director of the Institute for Peace and Justice Education that organized the LAU screening, explained that children deprived of their basic human needs would not be productive members of society. "They will perpetually be marginalized" unless something is done to stop the vicious cycle, she said.

Ghosn, who is also the chair of the Byblos Humanities and Social Sciences Department, hopes that the film will awaken people's sense of responsibility. "Everyone has a role to play. You can't be a spectator and expect things to change. You have to be the change maker," she said.

Zaarour's films have been screened in various universities, institutions, and regional and international festivals. His previous short film, The Window (2006), has won the top prize at the 13th European Film Festival 2006 in Beirut. It has also come third at the BMW Group Middle East's MINI Film Festival 2007 in Dubai, and been nominated for best film at the Sapporo Short Film Fest 2007 in Japan.