Food4Thought guest talks manliness, power and peace
Masculinities specialist Anthony Kaadi spoke to students in Beirut and Byblos as part of the monthly talk series organized by the Institute for Women's Studies.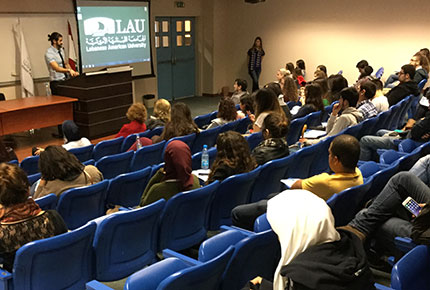 Masculinities specialist Anthony Kaadi spoke to two rooms full of LAU students last week about feminism, social conditioning and patriarchy during this month's edition of Food4Thought, a series of informal talks organized and presented by the Institute for Women's Studies in the Arab World. As usual, the first talk, on Wednesday, was held with students on the Beirut campus while another took place the following day in Byblos.
"Be a man! Man up! Take it like a man! What do these phrases mean? What do they demand of you?" Kaadi asked the audience of male and female students. The responses he got, which predictably distinguished the behavioral norms and traits society expected of men and women, led him to explain. "Men are conditioned from a very young age not to cry, to be leaders, to tackle problems not through discussion but through violence," said Kaadi, who himself recalls bottling up his emotions as a young man. While women have also for generations been conditioned under a patriarchal hierarchy, the international feminist movement went some way to counter women's suggestibility and promote more freedom of choice for women, he added.
Kaadi, who has worked with ABAAD Resource Center for Gender Equality since its inception in 2011, and has often collaborated with the Women's Institute, went on to describe the changes brought about by the feminist movement. "Feminism created female leaders, chipped away at discrimination based on power relations and empowered women to hold on to feminine qualities while gaining the freedom to embody traditionally male traits, but the same was not done for men." This in part might explain why men, who are raised to view vulnerability as a weakness, die younger from stress-related substance abuse and cardiovascular disease.
Kaadi urged the students to recognize that redefining gender roles – or rather not defining them and allowing natural human reactions to become the societal norm – benefits society as a whole. "Nobody loses power when human beings are given the freedom to feel, interact and work together. It's not about losing power, it's about redefining it."
Such a shift would not only give men the pleasure of spending more time caring for their children, and women the opportunity to realize their personal ambitions and contribute to the betterment of society, it would also, said Kaadi, result in more balanced and nurtured children. This may in turn generate more role models, which Kaadi believes are much needed in the Arab world. "Gender equality goes hand in hand with development and peace. There is a direct correlation and you cannot aspire to one without the other."
Awareness is a first step to change. "Ripples make waves," Kaadi told his audience, "and if my talk with you today can slightly tweak your thinking, then there's a ripple."
This month's Food4Thought talk was part of a series of initiatives being held as part of the global campaign "16 Days of Activism Against Gender-Based Violence." Upcoming events as part of the same campaign include a film screening and panel discussion on December 7 (http://iwsaw.lau.edu.lb/activities/event.php?evt=20151207_screening-and-panel-discussion-i) and an interactive theatric performance on December 10 (http://iwsaw.lau.edu.lb/activities/event.php?evt=20151210_interactive-theatre-politics-is-).