For a better engineered future
Senior engineering students from different Lebanese universities showcase their projects at the 3rd IEEE Student Competition.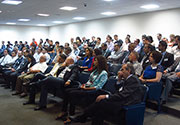 The day started with introductory talks among which that of Dr. Bachar Al-Hassan, assistant professor at the Lebanese University and chairperson of IEEE ComSoc Lebanon who introduced the audience to the organization's work.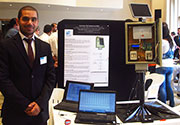 A participating student from AUST standing proudly beside his table, awaiting the jury to evaluate his project.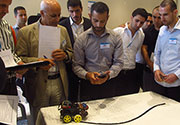 Eid Eid of Multilane, jury member, meticulously appraising a project: a self-driving, robotic car. Other jury members and professional affiliations are: Dr. Rola Naja, Dr. Yomni Ziadeh (Beirut Arab University); Dr. Rima Hleiss (Lebanese University); Jack Chalhoub (Ogero); Rami Assoum (Alfa); Nabil Imad (IMATEL).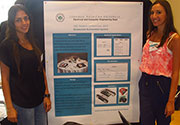 Two LAU students worked on a project they called "Restaurant Automation System" that allows restaurant goers to place their food order electronically without the assistance of a server.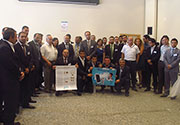 Two of the winning teams posing with jury members and fellow participating students.
Click on any photo to view all twelve pictures.
One of the chances given to bright minds to demo their projects and get credit for their work was presented at LAU Byblos on June 29 when the Lebanese chapter of the Institute of Electrical and Electronics Engineers (IEEE) and the LAU School of Engineering held the 3rd IEEE Lebanon Communications 2013 Student Competition.
Around 65 competing engineering students flocked to LAU Byblos on a Saturday to present their senior projects (graduation projects, capstone projects, or final year projects) to an audience of prominent figures in the field of engineering in Lebanon and fellow graduating students.
The future engineers came from the American University of Science and Technology (AUST), the Lebanese University (LU), the Lebanese International University (LIU), Al-Manar University of Tripoli (MUT), Notre Dame University (NDU) and LAU.
"The large number of participants and the quality of the presented projects confirm that this annual IEEE event is becoming a central venue for engineering creativity, scientific exchange and student interaction," said Dr. Chadi Abou Rjeily, associate professor of engineering at LAU and member of the organizing committee. "The commitment of our students as well as all faculty and staff at the School of Engineering at LAU have made this event a real success," he added.
After the introductory and plenary talks, around 30 groups — of one or more students each — presented their projects that spanned the engineering spectrum in three of its branches: electrical, mechanical, and communications engineering. Some examples of the projects showcased were: a fast food delivery Android application, an advanced wireless communication system for mine detection, an application allowing users to search for specific information within electronic newspaper databases, a gas ascertainment application via smartphone, a surveillance and target tracking autonomous robot, among numerous others.
In order to create these projects, that benefit them and others, students actually drew on their personal experiences. "Many students have long drives home and they might doze off. I'm sure they wish they had something to wake them up," said Nadine Daoud (LAU), who worked on a project called "Driver Alert and Protection System" with her classmate Ali Hariri. Using a motion detector, the system specifically identifies the head movements of dozing off drivers, and alerts them when their necks collapse.
Working on similar projects does not only help students develop and perfect their skills, but also gives them a lesson in perseverance. "There was a 99 percent chance my project would fail, but I worked hard till I finally reached success," said Hassan Haddad, a Lebanese University student who won second place. "Trust me, you have to put a lot of faith into your work to be able to succeed," he added.
The winners of the competition are: For the first category "Mobile Applications and Smart phones": first place: Gilles AbouJaoude, Cesar Merhej, and Elie Neghawi, NDU ("Asthma Care Apps"); second place: Ghina Dandachi, LU ("Implementation of an Identification/Verification Method based on the Measures Values by the Smartphone Application"); Khaled Bakhit, LAU (Historian). For the second category "Algorithms, Simulations, Systems and Devices": first place: Hassan Haddad, LU ("Miniaturization Techniques in Designing Omnidirectional High Gain Slotted Waveguide Antennas for Wireless Internet& Military Systems"); second place: Sybil Semaan Bartelmaos ("Adaptation of Smart Grids for Better Integration of Renewable Energy"); third place: Roland Matta ("Congestion Control Mechanism in Intelligent Transportation System").