For the love of dance
Dr. Nadra Assaf, instructor of English and dance shares her passion for the art as the International Dance Day Festival in Lebanon-2014 kicks off.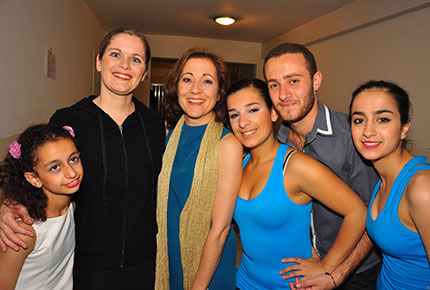 Dr. Nadra Assaf, instructor of English and dance at LAU Byblos School of Arts and Science, is the person behind the International Dance Day Festival in Lebanon; an annual event which she initiated in partnership with UNESCO. She tells us all about her passion for dance.
MarCom: You say you are a person who deals with languages, and you refer to dance as a language. Can you tell us more?
Dr. Assaf: Dance is a communicative vein of body movement. Dance is structured to deal with several areas. It can be literal, where one tells a story with his/her body, and can give an implied message, where an audience member walks away with a general feeling of understanding. Therefore, dance is very similar to language in its structure and this is why so many anthropologists and linguists have done research along these lines. Steps and movements are like words, string them together in a structured format and you can have a phrase.
I belong to the group of dancers/dancer educators who believe that anyone can dance. I also think that everyone does in fact dance. For me, dance is a state of body presence and movement. We all have body presence and we all move.
MarCom: Growing up in Lebanon, you experienced the negative connotations around a career in dance. How did you overcome this resistance?
Dr. Assaf: Passion is a strong element. I think my passion is my best characteristic because it allows me to fight for what I believe in and want. It has not been easy in Lebanon and in the Arab world in general because the body is somehow still a taboo. You feel you might offend someone if you are comfortable communicating with your body or even just by simply being comfortable being a body.
MarCom: Does dance have the same connotation today? What has been the impact of popular TV shows like Dancing with Stars?
Dr. Assaf: In some areas of the Middle East the body is still taboo. But I have seen an improvement in the past 23 years of course. There seems to be a movement in the recent years towards including dance in festivals in the Middle East. Lebanon of course has always had dance but I am referring to countries other than Lebanon.
Concerning TV shows, I believe that in the Middle East anything that can help to raise awareness about the body and dance is a good thing. We are still several steps behind our Western counterparts. I enjoy seeing how TV stations help to promote it, these shows are entertaining and present the fun side of dance.
MarCom: What impact do you think festivals such as the International Dance Day Festival can have?
Dr. Assaf: We believe we have a common thread in 'body language' and what more of a fun time can you have than sharing movement through dance? I have watched the festival grow since its inception in 2011. It has developed into a fun and educational week (one day more than a week, actually) where people from all walks of life come and revel in the knowledge that these professionals have to give.
MarCom: Lastly, why shouldn't our readers miss out on this event?
Dr. Assaf: World Dance Day is fun, free and totally inclusive! Anyone and everyone can dance!
Click here for more information about the program.