For the love of science
LAU students win third place at the 2014 International Organic Chemistry Competition.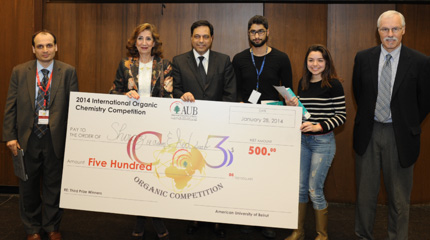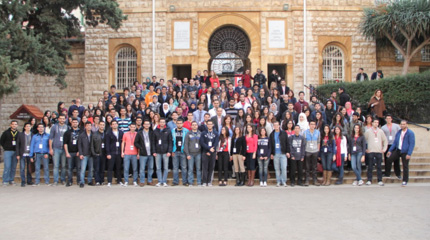 Organic chemistry involves a tremendous amount of problem solving and while widely regarded as challenging it can also be a whole lot of fun. It was in this spirit that the American University of Beirut held the 2014 International Organic Chemistry Competition on January 28.
In the face of fierce competition, LAU students Aad Saab and Shiraz Al Adam took home the third-place prize. First and second place prizewinners were from the Beirut Arab University. "We were very proud to represent LAU as a winning team in the competition," says Al Adam. "It boosted our confidence in the middle of a hectic reading period," he adds.
AUB chemistry department and the Organic Chemistry Club, under the patronage of the Lebanese Ministry of Education and Higher Education and the Lebanese National Commission for UNESCO (LNCU), organized the international competition.
Divided in 84 teams of two, the participants put their heads together to submit their answers to challenging organic chemistry equations using clicker technology. The students credit their success to the support of their professors, in particular Dr. Brigitte Wex, associate professor of chemistry. "Dr. Wex quizzes us using the same clicker method making the competition more familiar and easier to handle," Saab says.
The three winning teams were given monetary prizes of $1500, $1000, and $500, respectively. "Our future prosperity lies in you becoming the next generation of pioneering and successful scientists, researchers and lab technicians," Zahida Darwish, secretary general of LNCU, declared at the event.
"We are all very proud of Aad and Shiraz and extend sincere gratitude to our natural sciences faculty for their tireless efforts in helping our students excel academically," enthuses Dr. Nashat Mansour, interim dean of the school of arts and science.
"The competition allowed our students to experience the excitement of solving problems related to organic chemistry and provided them with the confidence to succeed in a competitive atmosphere among their peers in Lebanon and abroad," Wex explains.
Echoing the praise LAU President, Dr. Joseph G. Jabbra extended warm congratulations to the student winners: "As a university, we always shine through our students and their academic successes. Hard and smart work always pays off and leads to excellence."
The Royal Society of Chemistry (RSC), Wiley, McGraw Hill Education, Oxford University Press, Cengage Learning, VTC/Acros, Alfamed/VWR, Bioteckno, BeitMisk, AUBMC, USFC and Coral Beach Hotel and Resort, sponsored the event, now in its third year.
This article was adapted from: http://www.aub.edu.lb/news/2014/Pages/oc3.aspx