Forest preservation: Latest topic tackled by LAU environmental class students
As part of his class, Dr. Ahmad Houri invited an expert to discuss forest fire management.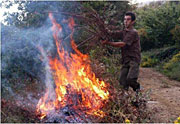 A villager burning dry vegetation to clean his land. (Photo: AFDC)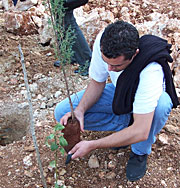 Planting a tree as part of Dr. Ahmad Houri's class.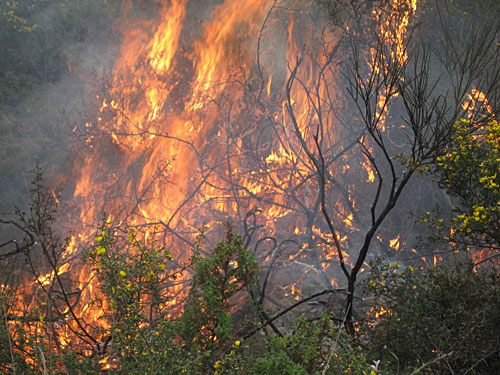 A recent shrub fire in Ramliyeh (Aley, Mount Lebanon). (Photo: AFDC)

Click on any photo above to view all three images
From July 2006 till October 2007, 3,700 hectares of forestlands were burned in Lebanon, according to Dr. George Mitri from the Association for Forests, Development and Conservation.

Mitri was the latest lecturer Dr. Ahmad Houri, LAU associate professor of chemistry, invited as part of the introductory environmental science class he teaches.

Every semester, Houri asks two to three guest speakers to share with students their expertise in various environmental subjects.

At the event held on March 10 at LAU–Beirut, Mitri, who holds a Ph.D. in biomonitoring and has worked extensively in the field of forest fire management, told attendees about the disastrous effects that forest fires could have.

According to Mitri, a direct cause of fires is farmers who often burn their fields to sustain soil quality for planting crops. "Any fire that comes out of the hands of the farmers turns into forest fires," said Mitri.

He also referred to indirect causes such as climate change.

Mitri discussed AFDC's initiatives aimed at preventing future fires including an EU-funded project to create Lebanon's national strategy for forest fire management.

This project is comprised of "components related to research analysis, prevention, control and restoration," said Mitri. These are the "different aspects of forest fire management that should be clearly understood by citizens, municipalities and ministries," he added. Many steps have already been taken such as creating an operations room in Beirut, purchasing necessary equipment, and training officers from civil defense and other relevant parties.

According to Houri, restoration could not be efficient if not gone hand-in-hand with prevention. "If we don't protect forests from fires, all that we are doing is just going to waste," he said, adding that a fire in 2007 burned triple the amount of trees that were planted in the last 15 years.

The lecture addressed the issue of raising awareness to prevent fires. According to Mitri, AFDC started a national campaign in 2007 "to make Lebanese, first rural populations and then citizens in general, aware of the problem," causes of fires, ways to spot them, and precautionary measures to take when dealing with electricity and fireworks.

One way Houri is contributing to awareness raising is by asking students to plant trees as part of his class.

Houri said protecting the environment may help alleviate problems such as poverty and diseases. "We do not protect the environment for its own sake. We protect it for our own sake," he added.

On a personal level, Houri is also involved in other activities that show his love for Lebanon's nature. Currently, his main focus is the study of the country's orchids that he's planning to publish in a book.

He is also working on the second edition of the Photographic Guide to Wild Flowers of Lebanon, a book he and his wife completed in 2001. The couple published the guide's second volume in October 2008.


---
Related story:
A new companion in nature: Houris publish Vol. II of wildflower photo guide.