Forging a strategic alliance
LAU and SABIS® Educational Services S.A.L. collaborate to share more than a century of experience and know-how.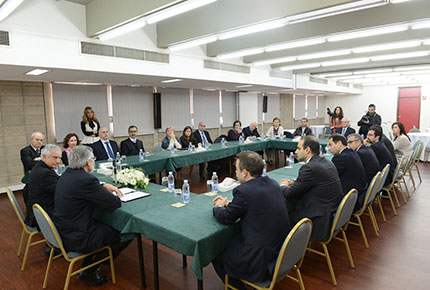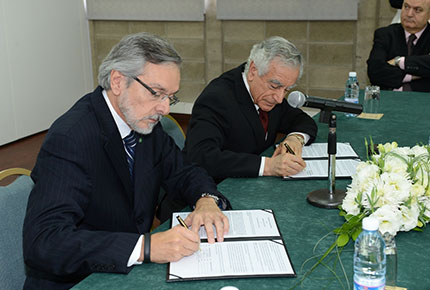 As befitting two institutions with roots in education reaching back to the 19th century, LAU and SABIS®, came together on February 4 to sign a Memorandum of Strategic Alliance to share experience, know-how and resources.
"This strategic alliance will become an example to follow in the field of education," said LAU President Dr. Joseph G. Jabbra. "There is always a benefit in collaborations and here it is for our most important and precious component: our students," he added.
Such an agreement will facilitate visits by LAU admissions representatives to SABIS® member schools to acquaint junior and senior high-school students on the benefits of a university experience and the diversity of career paths to chose from. At the same time, the university will provide SABIS® students with places in some of its most competitive programs, facilitating the flow of applications, and providing financial aid and scholarships to those who demonstrate excellence.
In an innovative step, both parties have agreed on a tracking system that will permit LAU to provide SABIS® with up-to-date information about the performance of their alumni at the university.
"We highly encourage the formation of an LAU-SABIS® chapter and are looking at the possibility of having students from SABIS® audit select summer courses free of charge," Jabbra pointed out.
Not only that, coordinators will plan and organize a one-day orientation dedicated to SABIS® students. The opportunity for SABIS® faculty and staff to be offered online certification courses is also being discussed, as is the establishment of a forum to review the continuous strengthening of curriculum offerings at both institutions.
"I am certain that if the people who have founded both our institutions could be here today they would be overjoyed," said SABIS® President Carl Boustany.
"This agreement will not only benefit our students but the country as a whole. Today's workplace is very difficult to define because the world is changing tremendously, but with our alliance we can solidify a foundation of knowledge giving our students not just the ability to cope, but to compete," he enthused.
SABIS® was co-founded by LAU alumna Dr. Leila Saad. Currently chairperson of its board, the renowned educator was the recipient of an honorary doctorate in humane letters during the university's commencement ceremony last July.
Since 1993, SABIS® Educational Services S.A.L. has been entrusted with the management of the global education organization SABIS®School Network. It works toward developing the network in the Middle East, Africa and Asia, which is home to 62 schools and one university in the organization's 80-strong school network.