Former finance minister calls for a secular Lebanon
Dr. Georges Corm highlights the blunders of sectarianism in the country during a guest lecture at LAU.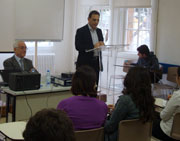 Dr. Imad Salamey, associate professor of political science at LAU, introduces guest speaker Dr. Georges Corm, former Lebanese Minister of Finance.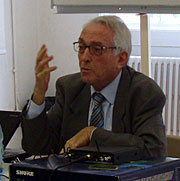 Corm said that Lebanon will never be able to move forward without first doing away with sectarian language.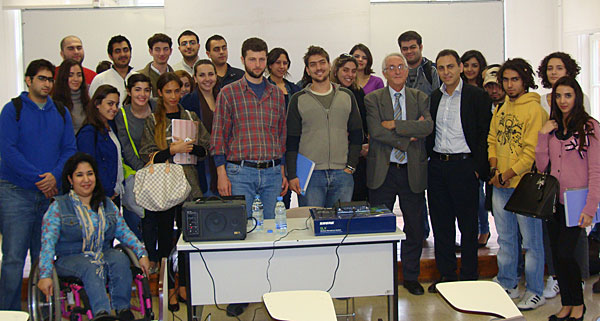 Corm with Salamey and students from the Lebanese Politics and Administration class after the lecture.
Click on any photo above to view all three images.
Former Lebanese Finance Minister Georges Corm criticized the sectarian tendencies of Lebanese people during a guest lecture at LAU Beirut on January 12, describing sectarianism as a "closed culture based on dogmas and clichés targeting to divide us."
"Sectarianism is extremely aggressive and based on an artificial divide between people that belong to the same geographical milieu … created by the eternal fight for political power," Dr. Corm said in his lecture entitled "Sectarianism and Lebanese Communal Conflicts."
The origin of sectarian divisions and the "imaginary" concept of East versus West in Lebanon, Corm said, can be traced back to 1840, over policies to divide the Christian and Druze peoples of Mount Lebanon, representing a conflict between France and England over the road to India.
He went on to criticize common expressions used to describe Lebanon and its society, such as, "the terrible cliché that Lebanon is bridge between the East and the West."
"Personally as a Lebanese," he said, "I don't want to be a bridge because when those imaginary concepts — East and West — collide, they collide here in Lebanon."
Corm blamed secularists themselves for failing to overthrow sectarianism.
He painted a grim picture of what the future may hold for Lebanon in terms of a secular revival, but challenged students to develop a strong program to fight sectarianism.
"This is a fight that has to be fought within educational institutions," he said.
Corm served as finance minister from 1998-2000. He has published over 28 books and dozens of journal articles on history, religion, politics and economics.
The remarks were made during the fourth installment of an ongoing guest lecture series in the Lebanese Politics and Administration course taught by Dr. Imad Salamey, assistant professor of political science at LAU.
---