Fostering a culture of self-assessment in education
LAU joins a team effort to improve Lebanon's schools.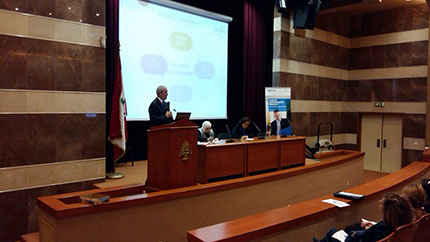 Recently, LAU entered into a partnership with the British Council and the Lebanese University, winning a bid for World Bank funding – dispensed through the Ministry of Education – for a project aimed at implementing a system of self-assessment in Lebanon's schools. "We went bidding neck and neck against some of the biggest players in the field," says Michel Majdalani, director of LAU's Continuing Education Program (CEP) which is coordinating the university's participation in the project. "We were able, in a very short period of time, to synchronize our efforts across departments and present something credible in the eyes of the ministry."
The endeavor involves training principals and administrators from 300 public schools across Lebanon in the process of self-assessment. According to Mona Nabhani, LAU associate professor and chair of the Department of Education, "We came up with an instrument for principals to self-assess their schools and then identify gaps. Based on the gaps they will be trained in coming up with an improvement plan." As an incentive, the program provides the participants with $7,000 per school, to improve the learning outcomes of students.
LAU's contribution includes helping to design the training materials, seconding four faculty members as trainers, and providing premises for the training sessions in Sidon, Beirut and Byblos. In Majdalani's view, the project potentially has national significance: "We are getting involved in something that has a tremendous and profound impact not only on the university itself but also on the lives of principals and the schools and the way they will be able to shape their destinies through strategic planning."
Norma Ghamrawi, professor and head of the Education Supervision Unit at the Lebanese University Faculty of Education, also emphasizes the importance of the project for Lebanon. "We are catching up with other countries in the region, establishing a culture of self-evaluation, building it on sturdy ground. This is something I believe should have happened much earlier, but better late than never."
For Robin Attfield, international education consultant and lead designer on the project, "LAU brings a number of strengths to the project, in terms of the quality of the individual consultants the university provided and the materials they have designed … it has provided the project with some credibility."
Donna McGowan, country director of the British Council-Lebanon, agrees. "LAU has an outstanding reputation academically," she says. "The faculty of education has previous experience in designing and implementing impressive school improvement programs involving highly qualified and high-performing faculty staff."
The first training session has already taken place, and the results so far are encouraging. Several principals involved have noted that the new system reinforces improvement ideas they already had, by providing them with a means of documenting areas in need. "As principals, we know what the school needs, e.g., support services and facilities for students," one said. "But with the school self-assessment tool, we can pinpoint the shortcomings and develop a structured plan to amend them."
Another principal described it more visually: "It's like you know that your house needs specific furniture for a certain room, but with the tools of the project we now need to take exact measurements both to ensure the furniture fits and to demonstrate its usefulness."