Fostering creative writing
A creative-writing workshop dedicated to Lebanese author Haas Mroue was held at LAU Beirut, attracting participants from diverse backgrounds.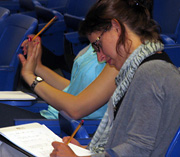 The Haas Mroue Creative Writing Workshop was held at LAU Beirut, May 23.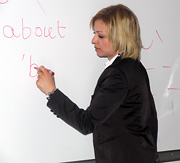 LAU English instructor Abir Ward, one of the workshop tutors, focused on poetry.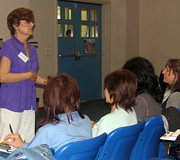 LAU English instructor Samira Shami, the second tutor, introduced participants to the art of the short story.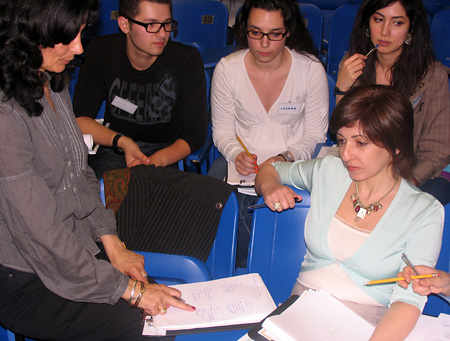 Participants work in teams to produce short stories.
Click on any photo above to view all four images.
A creative-writing workshop held at LAU Beirut on May 23 attracted participants ranging in age and profession, from LAU and Lebanese University students to faculty members from LAU and the American University of Beirut, as well as journalists from the United States and an elementary-school teacher.
The eight-hour workshop was led by LAU English instructors Abir Ward and Samira Shami. Ward focused on poetry while Shami introduced participants to the art of the short story.
The event also featured audios of the late Lebanese poet and travel writer Haas Mroue's poems in his own voice.
The workshop highlighted the importance of creative writing as a "pillar of art," according to Ward.
"A form of expression like dancing, acting, and singing, creative writing has immense therapeutic effects as well," Ward said.
For example, "Mroue wrote about Beirut as his form of coping mechanism since he had witnessed the horrors of the [Lebanese] Civil War first hand," Ward added.
The workshop, which was organized by LAU's Department of Humanities, was named after Mroue, after his mother, Najwa Mounla, donated the event's hosting fees.
"This workshop serves to promote creative writing and help establish LAU as a hub for writers and poets in Lebanon and the Middle East," Ward says. "By organizing such workshops, we help anyone with a passion for writing find his voice," she adds.
Such activities "provide an outlet for talented and interested students, encourage them to participate in creative-writing endeavors, and help promote interest in writing in general," Shami says.
Farah Saati, an LAU communication arts (journalism emphasis) student who has also attended a previous edition of the creative-writing workshop at LAU, felt that this year's event rose above her expectations.
"I really benefited from the workshop since it was interactive and triggered the creativity inside us, also giving us a space to critique each other's work," Saati said.
Ward is delighted with the participants' response to the workshop.
"Participants' interaction was amazing. Everyone seemed highly motivated, enthusiastic, and willing to do the work," Ward says. "Judging by the comments and emails I received after the workshop, I can say that the event was a great success," she adds.
Shami agrees. "Of course, I can't speak for everyone, but from the comments I received, the responses were very encouraging to me as facilitator," she says.
"Together with the help of Mroue's mother, we plan on having longer and more varied creative-writing workshops, competitions and even a short publication in the name of Haas Mroue," Ward says.