Fostering graduate studies and research at LAU
The university provides grant opportunities and proposal writing training in a bid to bolster funded research for its faculty.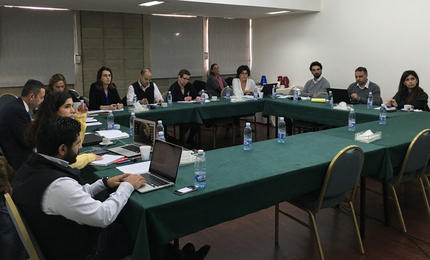 Last week, LAU's Graduate Studies and Research Office (GSR) held a grant proposal writing workshop as part of its mission to support the research needs of investigators and to foster quality research across all disciplines represented at the university. The workshop was held in collaboration with the LAU Center for Learning and Teaching.
For Joe Tekli, assistant professor at the electrical and computer engineering department, the workshop was very enlightening. "The links we were provided for funding agencies were also extremely useful. I will definitely look into them," he said.
The training was led by Rosie Nasser, an expert in the field of proposal writing and grant management in academia, with contributions from representatives of the LAU Budget & Grants Office and GSR. Its objective was to provide faculty with the best practices and practical skills necessary to write proposals for funded research. It covered such topics as identifying funding sources, planning and preparing a proposal (including a specific budget), and the review process. The workshop featured practical examples based on actual proposals that were either awarded or rejected.
Also a participant, Myrna Doumit, assistant dean for the Alice Ramez Chagoury School of Nursing, was very happy with the outcome, wishing for follow-up sessions where funded faculty from different disciplines would share their experiences and volunteer to mentor junior faculty.
Such suggestions were welcomed by the GSR which regularly organizes similar events with the objective to move LAU to yet a higher level by strengthening the institution's research capacity. According to Dean of Graduate Studies and Research Pierre Zalloua, who also heads the GSR, having a solid research idea is not enough: being able to present it clearly and cogently in a grant proposal is often the key to a successful funding application. "Faculty need to learn how to secure funding, because they need to have money to conduct their research."
One of the possible funding sources that faculty can apply for resides within the GSR itself, as the office manages research funds available through the university. "There are two application cycles per year at an annual budget of about $200,000," says Zalloua. Since each grant is approximately $20,000 per project (to be conducted over the span of two years), the GSR gives out around ten faculty grants per year.
Applications for the GSR grants are "a competitive process," emphasizes Zalloua. "Faculty have to submit a project proposal based on the guidelines that we have, which state that it should be significant, of a certain utility to the community, and should be interdisciplinary if possible." At the same time, "the main purpose of this fund is to help our faculty secure pilot, or preliminary data," he adds. "So if the idea is sound enough from a scientific perspective, the reviewers agree to fund it."
The workshop was attended by faculty members from both campuses and various disciplines. The highly interactive sessions were greatly appreciated by participants, who engaged in a lively discussion of subjects related to their own research experience.