From Beirut to London
The London School of Economics and Political Science hosts three LAU students for a one-month long course.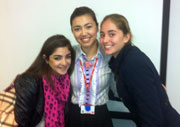 Maria Mendelek (left) and Celine Omeira (right) with their teacher.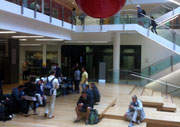 LSE campus.
Click on any photo above for larger version.
This was a busy summer for LAU students Maria Mendelek, Charlotte Rabbath and Celine Omeira. After spending the month of July in one of England's most renowned research universities, the London School of Economics and Political Science (LSE), all three business students, now in their senior year, came back to Lebanon with much more than a mere scholarly package.
Mendelek and Omeira, both of whom are majoring in business marketing, partook in the same workshop in LSE: Organizational Management. The course addressed the various aspects and elements that help to shape corporate employees' performance, such as their motivations and personality.
In spite of this being her first time studying abroad, Mendelek says she felt "well prepared for this course," and that both she and Omeira were among "the most diligent of the class."
"The marketing and psychology classes we took at LAU helped us do better at LSE," explains Mendelek. "Many students had some trouble catching up, but we were familiar with a lot of the prerequisite concepts well ahead of time," she adds.
But there's more to studying abroad than the knowledge you bring back home, maintains Omeira - especially when you're in a culturally rich city like London.
"Living alone in London helped me to be more confident and independent," she says.
"It helped me to better acquaint myself with other cultures and befriend people from different nationalities, which will ultimately help me to perform better in any future job, where healthy communication and open-mindedness are vital," she explains.
Conversely, Rabbath, an economics major, took a Public Finance course, which explored the analytical methods for the study of the public sector, and tackled the role of the state, both in theory and in practice.
Akin to her colleagues, Rabbath seized this occasion to test herself and assert her autonomy, while acknowledging that having the opportunity to study in one of the world's leading economics schools is a reward in itself.
Still, it's not always easy to live alone, admits Rabbath.
"The main challenge was having to organize my time between studying and sightseeing," she says. "London is beautiful, but it's kind of stressful when you're completely on your own."
According to Dean of the School of Business Dr. Said Elfakhani, one of the main advantages of studying abroad is the exposure one gets to various other cultures and academic environments.
"We live in a global village, and Lebanon's market is only a small part of it. This is why gaining international experience is crucial in order to help our students be exposed to business customs in other countries," he explains.
"We, at the School of Business, prepare our students for such experiences, making sure that they will make the best out of it."